Applications and interviews
There are lots of ways to apply for jobs – whether employers want you to apply with a CV, a form, or online - we can help.
---
CVs and covering letters
CVs
Resources in the careers service
Resources on E-learning

View the Careers organisation to access our CVs and covering letters guide and further advice and examples.
Seek advice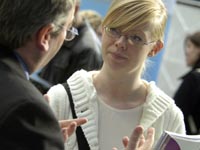 Get individual feedback at an appointment or drop-in session
We are happy to help by giving advice and feedback on your CV (but we do not provide a CV writing service and cannot spend time correcting your spelling and grammar). Get careers advice
CV presentations
For an introduction to CVs - check our events page to find out when the next sessions will be held. Our careers events
The CV is your opportunity to sell and market yourself positively to an employer. Your CV should summarise your career history, record your personal, educational, employment and voluntary experience and emphasise your knowledge, skills, responsibilities and achievements relevant to the job you are applying for.
Covering letters
A covering letter can be used to profile and highlight the contents of your CV. It offers an opportunity to introduce yourself positively to the employer. Your letter should be well constructed and clearly written.
Sorting your CV - tips and advice
See also