Careers jargon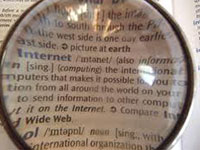 You may come across careers jargon with which you may not be entirely familiar. Below are some of the terms or language specific to careers and a brief description of what they mean.
A - E
Application form - this is a form you fill in to apply for a job. It may be a standard application form (known as a SAF) or one based on competencies that a particular employer requires (known as an EAF), usually available from the employer, or downloadable from their website.
Aptitude test - employers may choose to test your verbal reasoning, numerical reasoning, diagrammatic reasoning or other specific abilities.
Assessment centre - series of tasks and activities that are structured usually around a one to three day period to assess your suitability for a job.
Association of Graduate Careers Advisory Services (AGCAS) - the professional body for careers and employability professionals in UK Higher Education. AGCAS also provides some of the free booklets available on our website and in the careers information area, and contributes to the content published on the Graduate Prospects website.
Business games - specially designed business problems which are given to students to solve (in groups or individually)
Career - an occupation or profession built on a foundation of interest, knowledge, education, training, and experience
Careers adviser - provides information, advice and guidance to help people make realistic choices about their education, training and work
Careers fair - an event where you have the opportunity to meet potential employers face to face and market yourself to your chosen industry. Employers have exhibition stands, often with recent graduates on hand to tell you about their company, vacancies, and recruitment procedures.
Careers guidance - services and activities intended to assist people at any point throughout their lives, to make educational, training and occupational choices and to manage their careers
Careers information - information that exists to help you make informed careers choices. Careers information resources are mainly internet based, however we do hold a range of takeaway publications in the careers information area.
Careers interview/appointment - booked appointment held in a confidential setting, allows you to get in-depth guidance from an adviser
Case study - a practical example of a scenario based on a person's previous experience
Competencies - a combination of skills, knowledge and other qualities defined by employers
Covering letter - sent with a CV and/or an application form, a covering letter often summarises your reasons for applying and your key attributes and strengths
CV - Curriculum Vitae (CV) is a written summary of your educational qualifications, employment history and personal details. Sometimes referred to as Resume (American terminology)
Destinations of Leavers from Higher Education (DLHE) - information on what graduates do after leaving university - relating to employment and further study.
Drop-in session - a short appointment with a careers adviser for quick queries and updates - no booking required.
E-guidance - careers advice through an online system. Suitable if you have a simple question that doesn't need discussion between you and the adviser, or if you are unable to come in to the careers service
Employability - a set of achievements, - skills, understandings and personal attributes - that make graduates more likely to gain employment and be successful in their chosen occupations, which benefits themselves, the workforce, the community and the economy.
Employer presentations - given by employers are an opportunity to tell you about themselves and the vacancies they offer. Recent graduate recruits often participate in the talk, and can include videos, small discussion groups or case studies.
Entrepreneur - a person who creates a new business, despite the financial risks
Focus group - a group of students (usually volunteers) who are asked for their views on matters relating to a service
Gap year - involves taking time out either before going to university, during your course or afterwards. You can travel, work or volunteer in another country or in the UK.
Graduate directory - a book or magazine containing details of employers and their vacancies - mainly aimed at final year students, and second year students looking for placements. Usually free, many are available as digital editions and a selection are available in the careers information area
Graduate internship - short or fixed term period of supervised work experience that is usually related to the graduate's study and/or chosen career.
Graduate Prospects - major publisher of careers information, supported by AGCAS, the professional body of Careers Advisory Services in UK Higher Education Institutions
Graduate scheme - a training programme usually run by a large organisation. Employers take on a number of graduates in the autumn of their graduating year. Graduates are given a permanent, paid job and follow a structured training programme for the first 18 months to two years of their employment.
Group exercises - at an assessment centre, you may be asked to discuss a topic or undertake an activity with others, which will be observed and assessed.
Hidden jobs - jobs which are not advertised, and which are found through contacts or by writing directly to an employer making a speculative application
Higher Education Business Partnership (HEBP) - is a collaboration between the University and the Tees Valley local education colleges, where Teesside courses run at your local college.
Initial screening interview - may be carried out on the telephone, or after receipt of application forms. Used to draw up a shortlist of applicants to be invited for interview.
Internships - an American term for a period of work experience, lasting from a few weeks to a year. Can also be called a placement.
In-tray exercise - often encountered at assessment centres, in business games. You may be given a variety of written material and asked what action you would take with each item. You will be asked to do this within a set time.
Knowledge Transfer Partnerships (KTP) - is a three-way project between a graduate, an organisation and a university/research organisation/further education institution. Projects offered last from 6 months to three years, depending on the needs of the business
Mentoring - professional relationship in which an experienced person (the mentor) assists another (the mentee) in developing specific skills and knowledge that will enhance the less-experienced person's professional and personal growth
Mock-interview - opportunity to practice being interviewed for a job or course.
Networking - using your contacts - friends, relatives, lecturers and developing and maintaining this wide range of contacts to help you to tap into the hidden job market.
Occupational information - held on the careers website - you'll find information about specific occupations. Information from key organisations such as professional bodies, job profiles, books, videos, specialist journals and magazines.
Online application form - applying for a job through an employer's website by entering information into a predefined form.
Personality profiling - sometimes used by employers to gain an insight into your working style and attitudes.
Placement - a period of work experience, paid or unpaid, usually part of your course.
Portfolio - collection of work samples usually used by those in creative, art and design areas. It can also be used by anyone who would like to show samples of work to a prospective employer.
Professional body - organisation that offers qualifications and professional examinations. Usually charges a fee for students to join.
Professional qualifications - courses leading to professional qualification, taken after graduation offered directly by professional bodies , mostly part time and undertaken alongside your job arranged by your employer.
Psychometric testing - tests to measure mental abilities and qualities. Employers use a variety of tests within a wider recruitment procedure (the most common tend to be numerical reasoning and verbal reasoning).
Recruitment agency - agencies advertise vacancies and sometimes carry out initial selection on behalf of employers.
Second interview - often with a more senior member of staff. May be held as part of an assessment centre
Sign up / register - a booking system for you to indicate your interest in attending an event. Usually online.
Small and medium-sized enterprises (SMEs) - a company which employs less than 250 people.
Speculative application - sending a CV and covering letter to an employer asking whether they can offer jobs or work experience, without a job being advertised.
TARGETJobs - major publisher of careers information, supported by AGCAS, the professional body of Careers Advisory Services in UK Higher Education Institutions
Telephone interviews - sometimes used as pre-screening method. Successful interviewees are invited for face-to face or second interview.
Transferable skills - used to describe a range of skills 'transferable' between jobs (and also from your degree).
Vacation work - used to describe paid work during vacation periods usually during the summer, but can sometimes be during Christmas or Easter periods.
Vocational course - a course designed to train you for a specific job or career. These courses may be essential for entry.
Voluntary work - work undertaken for no pay. Can cover anything from a few days with a local organisation to a six month project for a charity.
Work experience - can be paid or unpaid work. Relevant work experience is essential for some jobs. Sometimes referred to as placements or internships
Work shadowing - observing someone doing their job to gain an understanding of what they do.
Workshop - an interactive session run by careers advisers or employers. You will be expected to take part in activities and contribute ideas.
Year round / on going recruiting - term used to describe how employers recruit - such employers do not usually have closing dates for applications.