Get careers advice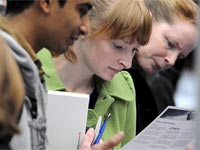 Still not sure what you want to do? Book an appointment with an adviser
Remember, we are here to help you.
Choosing a career - online guidance tools
No idea about your future career? Use these online guidance tools to help generate ideas, and match your skills and interests to potential occupations.
Prospects Career Planner
What jobs would suit me? With Prospects Career Planner, a comprehensive careers guidance tool for graduates, you can create a detailed personal profile of your skills, interests, and motivations and match it against a database of occupations.


Guide to using Prospects Career Planner (pdf - 150kb)
Once you have created your jobs profile, explore the types of jobs further by reading the reference books in the careers information area.
You can also explore types of jobs through our online section of websites and resources by career.
Explore your career ideas further.
---
TARGETjobs careers report
Find your perfect career match with this self-analysis and job-matching tool.
TARGETjobs careers report website
---
AllAboutCareers Career Test
Confused about your career options? Need some help? Try the Career Test to give you a nudge in the right direction.
AllAboutCareers Career Test website
---
Windmills interactive
A programme of exercises and activities to help manage your career and identify your ideal job.
Windmills Interactive website
---
Skills health check tools
Find out about the skills and abilities you have, and how they can help you get the job you want. Follow the step by step instructions to learn more about yourself.
Skills health check report on the National Careers Service website
---