Academies and Trusts
More information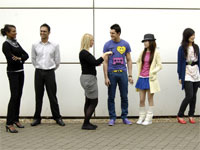 More information on academies and trusts can be found on the following websites:
In January 2009 the University agreed to become lead sponsor for two academies in the local region.
The original academy agenda fits well with our strategic objectives of:
raising aspirations
widening participation
supporting our local communities
working with post-16 college partners.
Our work with academies and trusts has provided opportunities to deepen existing partnerships with colleges in Stockton, Redcar and Middlesbrough. New partnerships have also been formed with local authorities, other local academies and secondary schools, and their feeder primaries.
Freebrough Academy in Redcar & Cleveland and Thornaby Academy in Stockton-on-Tees have both successfully completed the rigorous academy development process and officially opened as academies on 1 September 2010. Both achieved their best ever results in 2011 and have demonstrated their excellent progress to OFSTED in 2011/12.
The University maintains its commitment to the academies through governance, service support, CPD for staff and engagement opportunities for students.
The University is also involved as a partner in three local trusts. We make an extensive commitment to governance at Oakfields Community College (Middlesbrough) and in South West Durham (The ASSET Partnership).