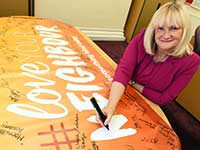 "At Teesside University we are committed to sexual orientation and gender identity equality for both our staff and students and value the rich diversity in our University community. We proudly support LGBT staff and work with Stonewall and associated partners to promote a respectful and inclusive workplace. This page details some of the resources available to staff," Juliet Amos, Executive Director (Human Resources) and LGBT+ Champion.
Student LGBT+ support: Find out more
A confidential email address - LGBT@tees.ac.uk - is available for any member of staff to use to highlight concerns, suggest improvements, or to report incidents of homophobic, biphobic or transphobic bullying and harassment.
Focus group
The LGBT+ Staff Focus Group is open to any employee with an interest in LGBT+ issues. The needs of our students are also represented on the Focus Group through a Student's Union Officer.
The purpose of the group is to work alongside the Equality & Diversity Advisor to raise awareness of LGBT+ issues and break down the barriers that prevent LGBT+ staff and students achieving their potential. The Group coordinate meetings through an elected Chairperson and work within agreed Terms of Reference.
Formal meetings take place three times each academic year, with additional informal meetings when necessary to plan events, such as Northern Pride, Transgender Day of Remembrance or LGBT History Month. For more information, or if you are interested in joining the group, please contact the Chair, Dominic Dunn, on 01642 384084, or email dominic.dunn@tees.ac.uk
LGBT+ practice
Policies: All our policies, services, practices, procedures and benefits aim to be LGBT inclusive and are regularly reviewed. University policies such as maternity, paternity and adoption and parental leave are accessible to all staff from the University regulation repository via Unity

Professional development: Information about training courses and development opportunities can be found on the Department for Learning and Development web page
Coaching and mentoring: Find out more
Pensions: Information about inclusive pensionable benefits for same sex couples can be found on the relevant pension websites:
Local Government Pension Scheme (LGPS)
Teachers pensions
Homophobic, biphobic and transphobic bullying: If a member of staff feels that they are being subjected to bullying or harassment because of their sexual orientation or gender identity they can speak, in confidence, to a Human Resources manager, or to the Equality and Diversity Adviser, or to one of the harassment advisers (see below).
A confidential email is also available, LGBT@tees.ac.uk, and staff can talk to their LGBT+ Union Representatives at Unison or UCU.
Harassment advisers: Our advisers are members of the LGBT+ Staff Focus Group and are fully trained. Please contact them in the first instance for staff LGBT+ related harassment: Angela Ramage, Student Services a.ramage@tees.ac.uk extension 2266 or Martin Leyland, Graduate Research School m.leyland@tees.ac.uk extension 8033. Alternatively, a confidential email is also available at LGBT@tees.ac.uk.
Alliance Workplace Counselling Service: An inclusive counselling service for staff. If you would like some advice or support, or would like to talk to someone in confidence about any of the issues on this page please contact Margaret Younger on 01642 738459 or email m.younger@tees.ac.uk.
Become an ally
Allies are individuals who do not identify as LGBT+ but believe that lesbian, gay, bi, and trans people should be free to be themselves and reach their full potential. Allies have a critical role to play in creating inclusive environments and they're key to advancing fair treatment for LGBT+ people at work, home and in their communities.
Find out more.
This is your opportunity to read and share views from allies committed to keep working to create a safe and inclusive environment for LGBT+ colleagues.
Read more.
Podcast - Being an LGBT+ Ally
Philippa Scrafton - Stonewall
As part of LGBT History Month, Stonewall held a Lunch and Learn event on campus discussing what it means to be an LGBT+ Ally.
Listen to the podcast
Useful websites
General
Local
Transgender
In the news
Contact us
Please contact Margaret Younger on 01642 738459 or email m.younger@tees.ac.uk