HR operations
Leave
We offer a generous leave package and aim to help all employees achieve an appropriate work-life balance.
Holidays and bank holidays
Academic and management staff are entitled to 35 days paid holiday each year, which must be taken between 1 September and 31 August. Administrative, manual, research and technical staff are entitled to 25 days paid holiday, rising to 28 days after three years continuous service and 30 days after five years continuous service. This must be taken between 1 April and 31 March each year.
The University will close over the Christmas period; the details of which will be advised annually. The closure period will be a combination of closure days, weekend days and bank holidays. There is no requirement to use annual leave or RSA over the christmas closure period.


Holidays and bank holidays (word - 30kb)
Christmas closure dates
Sickness absence
The sickness absence management policy and supporting procedure assists the University in its commitment to ensuring that staff are supported with regard to ill health and related absence problems. The sick pay scheme provides details of what an employee absent from work due to illness or injury will be entitled to receive.


Sickness absence management policy and procedure (word - 559kb)


Sick pay scheme (pdf - 69kb)


Sickness absence guidance (word - 372kb)


Return to work meeting form (word - 120kb)


Occupational health referral for assessment form (word - 152kb)
Maternity leave
The University will establish maternity schemes to support employees during maternity leave, and to facilitate retention of their skills and commitment. We maintain two different maternity schemes with eligibility, dependent on length of services. For further details on Maternity leave, contact your HR manager.


Maternity policy (word - 301kb)


Expectant and new mothers risk assessment form (word - 201kb)
Paternity leave
Fathers of newly born children are entitled to 10 days paid paternity leave in any one year. This can be taken within 12 months of the birth in agreement with your line manager. The leave can be taken as one block of two weeks, or two blocks of one week, but not as individual odd days.


Paternity leave form (word - 111kb)
Adoption leave
We have a scheme of support for staff to spend time settling in an adopted child. There must be a minimum qualifying period of 26 weeks service at the time an approved match is made by an approved adoption agency. There are 39 weeks of adoption pay and 52 weeks of adoption leave. For further details, contact your HR manager.
Compassionate and family leave
Compassionate and family leave is available in circumstances such as bereavement or the illness of a close family member. Normally the number of paid days granted in accordance with the policy, will be the maximum allowed in a rolling year.
Jury service
Staff receiving a jury service summons should consult their line manager and complete a leave of absence form, attaching a copy of the confirmation of jury service letter. Jury service is normally for a period of two working weeks. The University does not make any deductions from your pay during jury service.
Occasionally, jury service may be extended if the trial lasts longer than two weeks. If this is the case you should consult your line manager and complete a further leave of absence form for the extended period. It is also quite common for jurors to be dismissed before the end of the two week period. If you are no longer required to attend court then you should contact your manager and return to work.
More information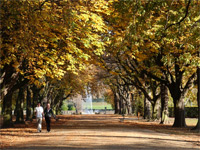 Our operations team provides a full HR service to specific groups of schools and departments around the University.