Be a brand ambassador
Brand ambassador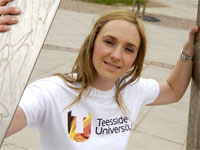 Think you can do it?
We need to tell the world what Teesside University is all about and we're looking for members of staff, students and alumni to help.
We're searching for staff and students in all academic Schools and in our partner colleges as well as staff in departments and alumni to volunteer as Brand Ambassadors.
If you think you can get the message out there – to our staff, our students and the public – we want to hear from you.
We'll train and brief you and provide you with the tools you need to help communicate our vibrant and dynamic image.
Think you can do it?
Contact: sharon.bimson@tees.ac.uk
Brand ambassadors
Kate Gibson - School of Arts & Media
Rachel Casey - School of Health & Social Care
Nicola Doyle - School of Health & Social Care
Katrina Savage - School of Social Sciences & Law
Abigail Eagling - Teesside University Business School
Claire Barker - School of Computing
Gordon Smyrell - School of Computing
Catherine Kearney - Academic Enterprise
Jeanette Crosby - Centre for Learning and Quality Enhancement
Diane Grosvenor - Centre for Learning and Quality Enhancement
Ben Robinson - Centre for Learning and Quality Enhancement
Janet Waine - Human Resources
Sandra Joyce - School of Science & Engineering
Claudia Garrido-Varas - School of Social Sciences & Law
Sam Allinson
Matthew Greco
George Hunt
Rachel Jones
Sarah Smith
Joanne Stevenson
Karen Wheatley