What's changing?
We are – all the time. Teesside University is moving forward. We continue to go from strength to strength, growing and inspiring others to do the same.
Undergraduate Prospectus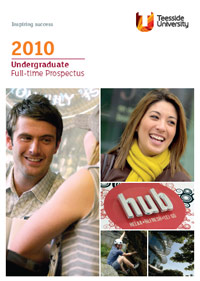 ---
84% of our degree students are happy with their course.
(National Student Survey)
Our students have access to quality-tested courses, excellent facilities and committed staff with a real passion for enabling them to succeed.
We tackle real world challenges and make sure our students gain the knowledge and the know-how to flourish in their chosen profession.
Teesside University does not stand still – we continue to invest in and develop our campus. Coming next:
a £17m new sport and health building
a capital development in Darlington - work expected to start early 2010
a new teaching block on Middlesbrough campus planned for 2011.
We have created an energetic brand which signals to the outside world that we are embracing the future with confidence.
Our new look will take us forward in the exciting times ahead as we grow, flourish and encourage others to do the same.
Over the next 12 months the brand will be rolled out across the University. This website will keep you up to date with developments.
And we're looking forward to working as a team to embed our values and image into everything we do.