Frequently asked questions
Why are we having a new logo?
Teesside University is gaining a reputation for outstanding teaching, research and business engagement. Our 'old' logo has served us well for 10 years but we needed to create a brand which reflects accurately our strengths and successes.
Stationery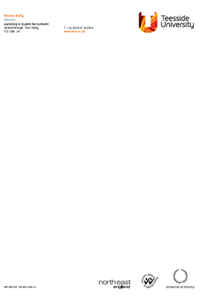 Letterhead example
---
When do I start using the name Teesside University in my communications?
You can start saying and using 'Teesside University' straight away. You will notice the change in all new publications, advertising and press releases.
Why was this logo chosen?
Our design agency Lloyd Northover helped us to consult with staff, students, potential students and business stakeholders. This was the overwhelming choice and was agreed by the Board of Governors.
When will the new logo be used?
It is already on our 2010 undergraduate full-time prospectus. As our graphics studio completes the design guidelines we will start to use the new logo from May 2009 on the website, University literature, stationery. Campus signage will be updated over the summer.
Is stationery and literature with the old logo out of date?
No. It is fine to keep using existing supplies. It is expected the new identity will be widely used by the autumn 2009 term.
Can I still buy old logo merchandise?
Yes you can. Please see our merchandise page for the last opportunity to buy at discounted prices.
University merchandise
Will there be any budget implications for my School or Department?
Most Schools and Departments will make the change as part of the normal replenishment of stationery and literature so any additional costs should be minimal. If extra expenditure is necessary, this should form the basis of a budget bid in the normal way.
Will the website use the new identity?
Yes. The homepage will change in May and all other pages will have phased refreshment over the coming months.
How do I get the new logo?
Contact the Department of Student Recruitment & Marketing for advice. You will be able to download the logo and guidelines for use from this website soon.
If I have an idea about the new identity, will I be listened to?
We are keen to include new ideas so if you have an idea on how to use the logo to celebrate the success of the University please let us know, or better still become a brand ambassador and get involved in the work of the recruitment team. Contact if you are interested or have an idea for using the logo.