A new look
A spark of inspiration
Teesside University is committed to becoming one of the UK's leading universities for engagement with business.
Key objectives of Spark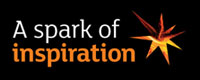 ---
increase the visibility of our business offer
generate direct response and leads
provide professional marketing tools
instil confidence in existing and prospective clients that Teesside University is a partner of choice
present specific services to targeted market segments to enable personalised follow up by account managers.
We aim to be the first-choice provider of knowledge-based services in the Tees Valley and, for key sectors, nationally and internationally.
The Spark campaign comes on the back of the launch of a new mission, vision and character for Teesside.
In 2009 we won the Times Higher Education University of the Year accolade as well as the award for Outstanding Employer Engagement Initiative for our Business School's innovative foundation degree in leadership and management developed with the North East Chamber of Commerce (NECC). Since launching the foundation degree with the NECC for members in the region, the Business School has gone on to develop similar programmes with other major employers such as PD Ports.
We have a strong reputation for working creatively with employers. Our client list includes the NHS, the Metropolitan Police and Capita. We have been awarded Customer First status – a demanding quality standard recognised by business.
Our future is dynamic, energetic and creative, and our refreshing new look and inspired outlook reflect our commitment to excellence in higher education and business engagement.
Our Spark campaign is a visual representation of this confident approach:
businesses, however large or small, can benefit from a spark of inspiration from Teesside University - we can help businesses and people prosper and grow
our bright sparks can support and inspire with training and development, consultancy, recruiting talent, knowledge transfer and starting a new business.
Marketing toolkit
A selection of Spark promotional materials is available. To book out stands and tablecloths, and to purchase folders and pens contact Lynn Wrightson in Academic Enterprise on ext 4580.
Print and promotional materials
Contact Julie Chapman, marketing officer in Marketing & Student Recruitment on ext 2960.
Downloads
Wallpaper, email signature and powerpoint presentations are available.