Stephen Seress-Smith
Stephen is pursuing his passion for computer games art at Teesside.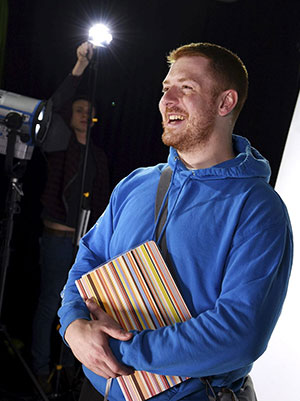 BA (Hons) Computer Games Art
'To me Teesside is all about opportunity, inspiration, aspiration.'
Why did you choose to study computer games art?
I returned to education after a break as a mature student. I have a passion in computer games art and wanted to pursue a career in it.
What is the best thing about your course?
The staff are friendly, the facilities are great and there are lots of opportunities. My favourite modules have been games design and art because they're the most creative subjects.

To me Teesside University is all about opportunity, inspiration, aspiration. There are a lot of opportunities here for someone who is aspiring like me.
What do you think about the campus and the services offered?
All the on-site facilities are great and have amazing accessibility. In fact one of the most important things for me is access to facilities. The library is open 24/7 which is ideal.
What has your social life been like?
There's lots to do in and around Middlesbrough. I enjoy clubs, bars, walking, kayaking, martial arts and football.
Are you a member of any clubs or societies?
I'm the chair of the Kung Fu club. I also run two student initiatives, one for gaming called Level Up and the other is a creative network called Fresh Ideas.
Would you recommend Teesside?
Of course – the education, facilities and training is second to none. There are great events such as Game Bridge, Game Box and Animex promoting opportunities and support. When I complete my course I will hopefully create my own gaming company or work at one – either would be fantastic. There is even support here on campus for after graduation such as Launchpad which can help me to set up my own business.