Lynne Lawson
Lynne joined her course in a mad dash through Clearing, and she is so glad she did.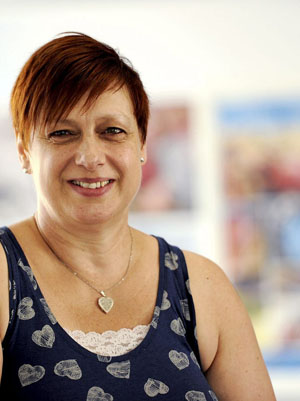 BA (Hons) Performance for live and recorded media
You got in through Clearing - tell us how?
When I was at school we weren't expected to go to university, so after my O levels I got a nice safe job in a bank, where I stayed for 20 years. I married, and I have a grown-up son. I was always interested in performing, but my father said nice girls don't do that.

I was made redundant, so I took the opportunity to do an Access to Higher Education course at my local college, but I thought I couldn't afford to go to university. At the same time I fostered children with learning disabilities. However, I did a course at ARC in Stockton, just for fun, and out of that joined a comedy sketch group. I still perform with another woman as "Immature Ladies". I got parts in plays and short films, and had a day job in the office of an engineering company.

In 2013 I started receiving the pension from my banking job, and I realised I could afford to go to university. I looked on the Teesside University website and saw there were places on the PLARM course. I phoned Sarah O'Brien and she invited me to come in for an audition and interview. It was a mad dash from first looking to applying through Clearing and being offered a place.

What's the course like?
I love the course. If I worried about anything, it was whether I would fit in as a mature student, but we all get on well. It's not all performing – there's essay writing and modules on radio acting and TV presenting, and we get behind the camera and learn to use the editing suite. The facilities and equipment here are wonderful. On top of the course work, I'm an ambassador for the PLARM course, and I volunteered as a tour guide for the recent Anne Frank exhibition in the University's Constantine Gallery.
What next?
Next year I'm planning to take the comedy module. When I graduate, I hope to make a living by performing, using the new skills I'm learning, and with the confidence a degree gives you.