Haider Zafar
Haider has gone on from his Teesside University degree to become a film-maker.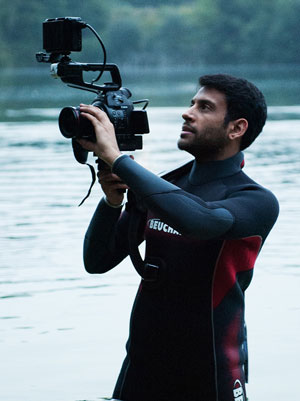 BA (Hons) Creative Visualisation, 2005
What brought you to study at Teesside University?
I heard about Teesside University while researching for courses that interested me in the profession of visual effects, animation and computer games. I visited the campus for an open day and really liked what the university had to offer, including its facilities in computer graphics technology, TV studio and library. The University is part of a small town that had everything in walking distance and convenience, especially the cinema. I chose a BA in Creative Visualisation as it provided a broad horizon of opportunity after graduation. Initially I had always envisaged a career in visual effects in film and television.
What was the course like?
The university provided state-of-the-art facilities for our course requirements that allowed us to self-develop as well as learn from our tutors. We were fortunate to have the Animex International festival for Animation and Computer Games at Teesside, where we got the opportunity to meet and learn from industry professionals about their own experiences of entering the industry and skills needed to succeed.

Apart from the obvious learning aspects, I really enjoyed the diversity of students coming from all over the UK and internationally too. The experience of living on campus really allows you to develop as an individual and facilitates becoming independent through having to do everything yourself. There are a number of clubs and activities to be part of and I would highly recommend joining early so that you can make potential friends that last a lifetime.

What did you do next?
I began working for PRP Architects in my home town of Milton Keynes as 3D Visualiser, and then moved on to their London Office. The credit crunch hit us in 2009 and I began a freelance career. During this time along with architectural visualisation I pursued my interest in film and directed and shot a couple of short films. In September 2011, I managed to get a break as Director of Photography/Cinematographer shooting my very first feature film - White Collar Hooligan.
What are you doing now?
I am Director of Photography with HKZ Productions. I have shot 13 feature films in less than three years including Danny Dyer's Vendetta and Martin Kemp directed Top Dog. I've been fortunate to travel the world and shoot in places that include New York, Rio, Lahore, Paris, Prague, Amsterdam, Malaga, Istanbul and Tokyo. The project I'm currently producing is a co-directorial début feature film called The Conversations, which aims to be my calling card and most ambitious piece yet. It's been a long journey of patience and persistence that doesn't get any easier, but when you work in a profession you love doing, it no longer becomes work. That's what I keep telling myself at least.
Would you recommend Teesside University and your course?
I would recommend Teesside to anyone interested in specialising in the field of Computer Games, Animation and Visual Effects. There is a great opportunity to study in a quiet town without the big city distractions, but still plenty to do. The particular course I studied has a wide scope in job employment and potential to do a more focused masters in the future.