Ellen Dudley
Ellen's placement was the highlight of her course.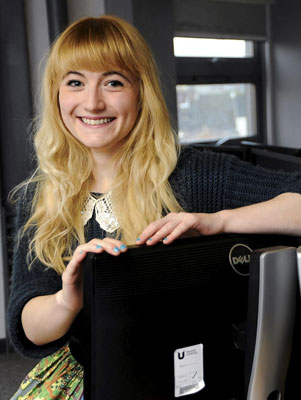 BA (Hons) Computer Games Art
Why did you choose Teesside University?
I have always been interested in art and studied fine art in my earlier years of education. Finding out that I could combine my passion for art with my love of video games seemed like the perfect option for a degree course. I chose Teesside University because it was the university that I found had the best connections to the games industry. The reputation for the computer games art course was enough for me to apply.
What was your course like?
My experience has been amazing. The lecturers have helped wherever possible and the facilities are state of the art. There are also numerous opportunities to speak to industry professionals via Animex and internal lectures. My favourite aspect of the course is that I was able to apply my previous knowledge of fine art principles whilst learning new software and skills I had never touched on before, for example 3D modelling. Another highlight of the course was the placement.
Tell us about the placement?
For my industrial placement I worked at Soho Productions, in London, a first party studio for Microsoft Xbox, in the Interactive Entertainment Business section of the company as a Creative Intern. I worked on titles such as Kinect Sesame Street TV for the Xbox 360 (BAFTA winning) and Touch Sesame Street TV for Windows 8 which both collaborated with the Sesame Street Workshop in New York. It was amazing to think that Sesame Street were reviewing my artwork and approving it too!

At the end of my internship I was hired by the studio for the few months over the summer before I returned to my degree. My job title was Junior Artist but at this point I had been working on front end user interface (UI) development for the Xbox One, so I was learning coding as well as using my art skills.

It was exciting working on a console that had yet to be launched to the public, seeing exclusive previews and getting to test it months before everyone else got their hands on – it was an amazing experience.Through the development of Upload Studio, which is the software I worked on for Xbox One, there were some challenges as it was working with brand new technology and if there were problems we had to create solutions.

Fortunately I worked with both the programming team and the art team so I was lucky enough to work with some of the most interesting and talented minds of the industry and turn those problems and solutions into a great product available to the public. Upload Studio was available on all Xbox One consoles at launch and therefore my work was seen by millions of people right from day one which is an unbelievable feeling and almost topped getting my first official credit as a Technical Artist on Kinect Sesame Street TV.

What are you doing now?
I am not working at present but I believe that my course, and most notably my industry placement at Microsoft, has given me the knowledge and skills to be a success in future.