Alison Beveridge
Alison has gone on from her degree to further study and then a successful career.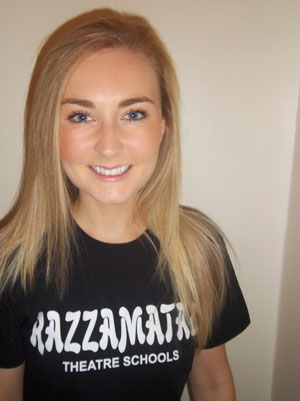 BA (Hons) Performance for Live and Recorded Media
What attracted you to study at Teesside University?
Partly the location – I wanted to stay at home while I studied, to save money. The University had a good reputation for delivering courses which were current and equipped you for working in the industry. PLaRM was a very broad course. It offered a flavour of lots of different aspects of performance; not just acting and not just traditional styles. The main attraction to studying PLaRM at Teesside was its emphasis on recorded arts – many degrees don't offer the same level of engagement in recorded media.
What was the course like?
Fantastic course, beautiful facilities and brilliant staff and colleagues. What more could you want? The facilities are very modern, high tech and accessible – it was so beneficial to be able to borrow cameras and use the editing suites. Many of the modules taught gave us the freedom to explore whichever medium or topic we were interested in and the expertise of the staff covered a huge variety of genres. The course equipped me with the knowledge and skills I need to be successful in such a competitive industry. I got the opportunity to try out different areas of performance including motion capture and reading from an Autocue – most fellow actors have never had these opportunities, so I have a few extra strings on my bow which puts me ahead of the competition. I also got the chance to be behind the scenes – operate the camera, the lighting desk in the theatre etc, which develops your appreciation of other roles within the team and again, taught me new skills.
What did you do next?
I completed a Masters in Acting at the Academy of Live and Recorded Arts (ALRA), accredited by The University of Greenwich.
What are you doing now?
Acting – I have a professional contract lined up for over the festive season. I will be playing Belle in a UK tour of Beauty and the Beast. What I love about acting is that no two days are ever the same. You are constantly meeting new people and learning new skills. In my day to day life, I go to networking events, go to the theatre/cinema, keep fit, attend acting workshops etc. There's always something to do. As an actor, you are the product so you have to keep on top of your game.

Principal of Razzamataz Durham – Our school runs every Saturday morning. We teach a mixture of musical theatre and commercial styles including street dance, pop singing and improvisation. My mission is to create a happy, safe environment for local children to develop new skills, explore their potential, boost their confidence and make new friends. I hope to give my students lots of opportunities to perform and try different areas of performance. As principal, I carry out administrative work, accounts and marketing plans. I look forward to Saturday mornings – the fun bit – building relationships with the students and seeing what they come up with.