Emilis Baltrusaitis
Emilis secured an internship after he graduated, and that led to a full-time job.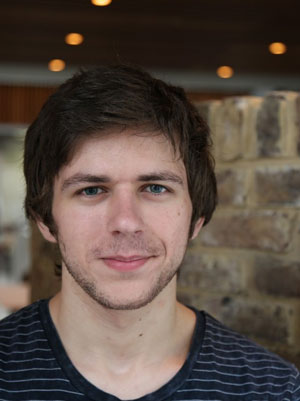 BA Computer Animation and Visual Effects, 2015
Students are competitive with each other, but also willing to help each other improve.
What brought you to study at Teesside University?
Ninety per cent of contemporary 'movie magic' is created through the use of CGI and I've always wanted to find out what goes on behind the curtains of modern blockbusters, and better yet, be a part of it myself. I decided that going to University would be the best way to learn the skills and push myself further than I would be able to through self-study. I googled top places to learn VFX in the UK and Teesside happened to be one of them. I went to interviews at all that I saw as the best, and Teesside left the best impression.
What was the course like?
I enjoyed the amount of freedom given to us regarding our projects, as well as the atmosphere in general, where students are both competitive with each other, but also willing to help each other improve. My favourite modules were probably the individual final year project as well as the group projects in 2nd and 3rd years. The facilities for my course are great, with top of the line software and hardware to help push the students to succeed.

Teesside has a great Students' Union which is good for both student representation, as well as throwing great parties. I stayed in University accommodation for a large part of my time there, and I was able to make some great friends in addition to those found on my course.


What are you doing now?
I am working as a Matte Painter at Double Negative visual effects studio in London – my dream job.

In the summer after I graduated I was lucky enough to receive an internship at Double Negative, where I received training as a Digital Matte Painter working on the new James Bond movie, Spectre. Part of the reason why I was able to attract Dneg's attention in the first place was my participation in the Expotees London event which took place at Dneg's offices in London and allowed me to meet many of the professionals there and make connections with them. At the end of the internship my contract was extended into a full time job.

All of the modules at Teesside were geared towards the Animation or VFX industries with significant overlap. Even though my current position does not require me to utilize all of the different knowledge I gained from different modules, it definitely helps with the broader understanding of what is going on in the numerous departments of a VFX house.