Samantha Hurley
Samantha came to Teesside to change her career.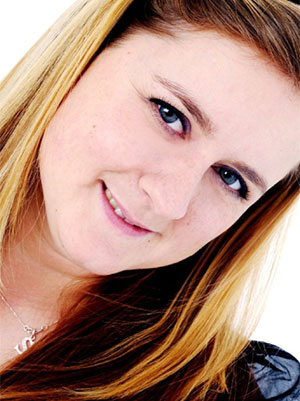 Foundation degree Computer Science, BSc (Hons) Computer Science
'Teesside has a great reputation for computing degrees so it was my only choice when I decided to change career direction.'
I worked in logistics for 13 years and decided to return to university after a bad day at work. I studied animal welfare as a teenager, however I soon discovered it was not a great career choice due to the lack of progression opportunities. I think it's really difficult to choose your career at 18, so returning to study as an adult at Teesside was a great decision as I was more knowledgeable about my options.

I didn't complete a placement year as I was working full time during my degree. However, I received support from the careers service in finding part time placements during the summer holidays. I noticed that students who took placement years were more confident and committed when they returned for their final year. I would recommend to squeeze in a placement if you can as it helped me massively in finding a job to go to before I had even completed my degree.

I was struggling with confidence in interviews and attended some sessions with the careers service where we recorded a fake interview and worked on improving my responses. I found it really useful just being pro-active and using the careers service to help me work through my confidence issues. I also used the careers service for helping me find work when I'd completed my degree. I found the vacancy with my current employer Tombola through the careers service. I have been very lucky in finding employment in the best job I've ever had.

Since graduating my career has been great, I work as a platform developer for Tombola. I love working in the tech industry as there are tonnes of opportunities to grow and to keep learning. Women working in industry is topical at the moment and I'm lucky that I haven't faced any discrimination. I have found that companies are supportive and encouraging of all employees equally – particularly tombola!

My role as a platform developer for the marketing team mainly consists of data extracting, reporting, SEO, API development and site development. I really enjoy doing front end development using HTML and CSS as I enjoy creating and designing interfaces that the user can interact with. I find being responsible and having control over a project's development from start to finish is really rewarding. It's nice to have a physical finished product that you can show family and friends when they ask what you do, a great example of this is the work I recently did on Tombola's careers site.

I'm hoping to emigrate to Australia in the next 12 months and I intend to continue my career as a developer over there.

I made some life-long friends at Teesside and really enjoyed my time as a student. I would recommend Teesside and my course. My brother has since followed my footsteps and is currently in his second year in the computer science degree as a mature student. I look forward to coming back for a visit when he graduates in 2018!