Selina Peart-Pearson
I heard Teesside was the best place to study games and after seeing some student work I made it my first choice.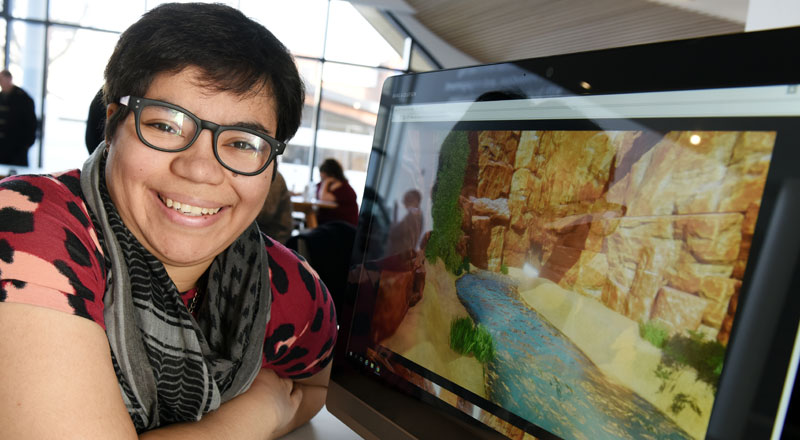 BA (Hons) Computer Games Art
What is your course like?
It's great. And the labs are accessible 24/7 which is brilliant if you need to catch up out of hours or if you need help from another student. There is always somewhere for you to work no matter what time of day.
What's the best thing about your course?
Being able to bounce ideas off other students has been invaluable throughout my time at Teesside. The tutors come from so many different disciplines that they all bring something new and interesting to each project. Every tutor I have had the pleasure of working with has inspired me to push myself.
What's been your favourite module?
The Games Practical Project which is our final year module has been my favourite. This project gives you an opportunity to express your creativity with very few boundaries. It's a great way to showcase everything you've learnt and everything you've got to offer.
Would you recommend Teesside?
Yes! Choosing Teesside has been the best decision of my life. I got a chance to participate in opportunities I otherwise wouldn't have like winning the King Women in Gaming scholarship to attend the Game Developers Conference (GDC) in San Francisco.
I am very excited to be going to GDC, it's a huge event. It was a long shot in submitting my application, but I am so pleased I did. My specialism is technical art, which is quite a niche area, so I was really excited when I found out there will be a workshop on it at GDC. I'm really looking forward to meeting the nine other students who won the scholarships to find out what they are studying and how their experiences compare to my own.

What is your social life like?
I often visit the Students' Union as a place to relax and catch up with friends outside the lab.
What are your plans and ambitions?
When I leave Teesside I hope to go into the games industry, although I don't have a specific dream job in mind. The course has been great and has put me on the right path to work towards a career in the computer games industry.