Daniel McLeod
Daniel is chasing his dream of becoming a TV producer.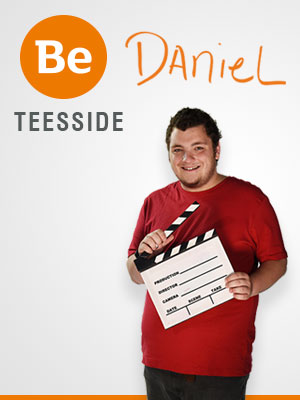 BA (Hons) Television and Film Production*
'I would recommend Teesside to anyone – it has the best facilities.'
What brought you to study at Teesside University?
I first came across Teesside when I was looking for universities to put on my UCAS application. I always wanted to continue my education, but it was only when I went to college that I decided I wanted to go to university.
What do you think about the campus and the services offered?
What can I say? The campus is amazing. It has everything you need in close proximity, including the library and campus shop. And the Students' Union is the best night out!
Have you stayed in University accommodation? What did you think of it?
In my first year I stayed in University accommodation, and it was the best year of my life. I met new friends who I know will be my friends for a long time. There is also a great atmosphere.
What has your social life been like at University?
I didn't have much of a social life before I started university, but being here at Teesside I've made so many friends. We enjoy going out to the clubs around Middlesbrough. But if you're a shopaholic like me, Middlesbrough town centre has the best shops around and they are all student-friendly.
Would you recommend Teesside University and your course to others?
I would recommend Teesside to anyone – it has the best facilities.
What's next for you?
I would like to become a TV producer in future. The course will help me to become what I want to be, but the qualification I will get will prepare me for many different roles in the industry.

*Now known as BA (Hons) Film and Television Production.