Steve Wills
A Teesside degree in graphic design opened up a rewarding career and a successful award-winning business for Steve.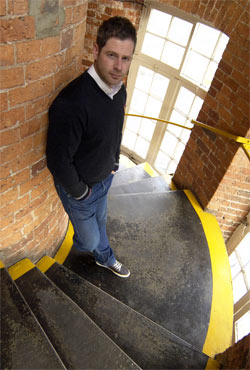 BA (Hons) Graphic Design
Why did you study graphic design?
'I discovered it during a foundation course at Barnsley College, and have never looked back. I joined the first cohort of students on the graphic design degree at Teesside University. This was in 1993, when the manual technology of drawing boards, Rotring pens and Letraset were just giving way to computers running Freehand, Quark and Photoshop. I loved the course – one of the highlights was winning a national student competition to design a Royal Mail stamp.'
What did you do when you graduated?
'I started working at Attik Design in Huddersfield – a high-profile, successful design business specialising in retail marketing with well-known clients like Nike, Sony PlayStation and Guinness.
When did you start your own business?
'I set up B&W with Lee Bradley in 2005. Lee was working at Brahm in Leeds as Head of Design. We have one employee at the moment, so all of us are hands-on, and we bring in freelance photographers, copywriters, and web developers as and when we need them.
What are the highlights of running your own company?
'We've won a lot of awards for our work, but the highlight came when we managed to collect Best of Show and Best Annual Report at the 2010 Design Week Awards. Another was producing an annual report for Urban Splash, a firm of architects, planners and property developers specialising in urban regeneration. We feel firmly established, and yet every commission is an opportunity to try something new and there's always something to learn.'