Phil Makinson
At the age of 14 Phil Makinson decided to aim for a career in journalism. Now he's on his way.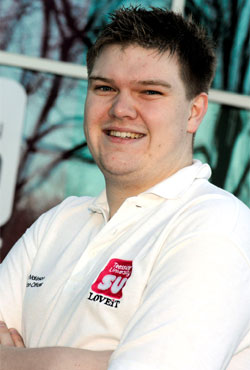 FdA Journalism
'I really enjoy the thrill of the adrenaline rush of having to hit a deadline.'
What made you choose journalism?
I first became interested in journalism as a career when I visited a local newspaper on school work experience. Ifollowed this with further work experience with Sky News, who offered the opportunity to teens in Northumbria. I really enjoyed the thrill of the adrenaline rush of having to hit a deadline. The FdA has given me so many skills, I've learned how to write, prepare and construct news stories and acquired interview techniques.
Did you do any work experience?
I worked as an events and PR manager for the University's award-winning student radio station, Click. This included joining the behind-the-scenes production team for a 24-hour continuous broadcast to raise money for the BBC's Children In Need. It was a slightly unusual event, as the three student DJs were encased in a glass box. It was bizarre and by the end of the 24 hours you were so tired you almost felt drunk. But it was a really, really good experience, we all supported each other as a team and raised £1,200.
What are you doing now?
I am working as an Education Officer with Teesside University's Students' Union team of four elected trustees. After this role, I hope to travel before looking for my first media post, with the global itinerary set to include Australia and the USA.

What do you think of Darlington having its own University campus?
I think it's brilliant. It's going to be a good thing and will benefit not only Darlington but the wider region of Durham and North Yorkshire.