Achilleas Gatsopoulos
Achileas came from Greece to study at Teesside, and has never looked back.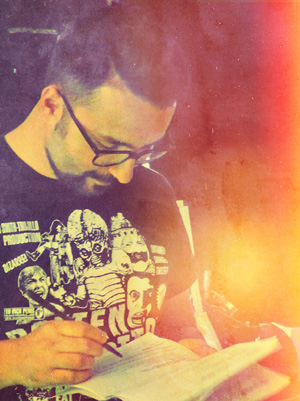 BA (Hons) Creative Visualisation, 2002
What brought you to study at Teesside?
At school in Greece I was thinking about fine arts or architecture. A drawing teacher opened my eyes to other possibilities such as animation. The best courses were in the UK, and when I found out about Teesside and its program, the choice was easy.
What was the course like?
The degree was very interesting and a great preparation for my subsequent career. I also enjoyed the work placement opportunity, working in a visual effects company in Babelsberg Studios in Berlin for a year, as well as the then brand new Animation Festival. As a student, it was great to be in a very international environment within a small self contained place. I also enjoyed the chance to see other places nearby like Newcastle, Durham, Whitby, and Leeds.
What are you doing now?
After a master's degree in Production Design for Film and TV at Kingston University, I worked in the film industry for a couple of years and then went freelance – www.hypnagogia.com . My services range from music videos, short films and illustration to video content, set design and visualisation for events.
I have worked on big films such as Harry Potter 3, Charlie and the Chocolate Factory, and I also enjoyed working within the music industry for diverse artists ranging from pop (Pet Shop Boys, Coco Electrik) to heavy metal (Dark Tranquillity, Candlemass, Nightfall). I also have worked on event projects for major companies such as Stolichnaya, Vodafone, Diesel, Warner Brothers, O2, Absolut Vodka, Jameson, Havana Club, Malibu, Chivas Regal, Bourjois, British Fashion Council, Selfridges, Sainsbury's, and Topshop.
I moved to live in Germany in 2009.

Would you recommend Teesside?

I would just say that it delivered the goods. I got even more than I was hoping for in terms of education, and I thoroughly enjoyed the international crowd and made some great friends for life.