Katie Riley
Katie has beefed up her CV by getting work experience during the summer vacation.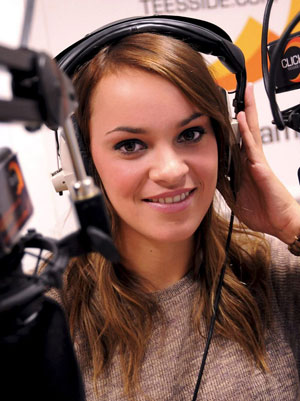 BA (Hons) Television and Film Production
'My work experience has helped me understand what I want to do when I graduate.'
What brought you to study at Teesside?
I decided on studying media during sixth form. Then I opted for a degree course at Teesside because it's more practical – all the lecturers have experience in the industry which is helpful.
What's the course like?
In my first year I was studying BA (Hons) Broadcast Media Production. But I've switched to TV and film production – it only differs by one module. I now know that I'm more interested in learning about broadcasting equipment, directing, outside broadcasts and what goes on behind the scenes. My work experience has helped me understand that this is what I want to do.

The facilities are great. We have an amazing Digidesign mixing desk and Pro Tools software – I'm still learning how to use them. I didn't have any editing skills when I started but the staff and technicians are really helpful. We can take cameras out whenever we need to for our student projects or assignments. We've done audio and video-based projects – a guide to Middlesbrough, a Valentine's movie and 60 seconds to Click (Teesside University's radio station).

There's loads to do at Teesside – something for everyone. I play netball, I present on Click radio and I'm the station's events manager. I'm also into scuba diving and karate. People are really friendly here – much more than at other universities that I've visited.

What about work experience?
I've always been interested in putting a different spin on my projects – on not making them ordinary. I did some work experience and shadowing with Chris Jackson on BBC One's Inside Out. As well as helping him, I was able to tour all the areas of the BBC. It seeded the idea and it's still there. I'm interested in documentaries with a purpose – I want to change people's opinions for the better.

I spent the summer vacation gaining work experience and then paid work for BBC Newcastle. First I helped with the Olympic Torch Relay as a runner – helping everything to run smoothly, providing all sorts of support in every area. I was able to get the work as a result of contacts from working on BBC Children in Need the previous year. I kept in touch, offering to volunteer for anything. I was fairly relentless. I then got paid work with BBC Newcastle's sports team – picking out footage for BBC One Look North's sports news and helping with scripts. I now help in the BBC Hub ingesting all the footage sent to BBC Look North and sending it to the relevant people to be edited.