Charlotte Brinksman
Charlotte, inspired by the dance degree, dreams of running her own dance company.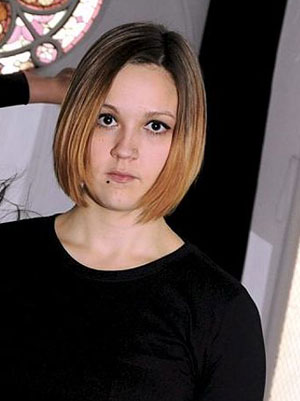 BA (Hons) Dance
'The teaching offers us ideas … and encourages us to develop our own style.'
What brought you to study at Teesside?
Dance has always been my passion – I took it for granted that I would do a dance degree. I researched the options through various prospectuses and the final choice was between Teesside and one other university. When I came here for my audition, I fell in love with the campus – I knew that I had already made my mind up.
What's the course like?
There's more to the degree than I had expected. Obviously we spend a lot of time learning dance techniques and styles, but we also had a Year 1 module – An Introduction to Dance Science where we learned anatomy and physiology.

The teaching offers us research ideas about dancers, choreographers, musicians whose work we might look at – and encourages us to develop our own style. We also have workshops with visiting specialist teachers on styles such as Zumba, Pilates, hip hop and jazz which helps us to understand different styles. Of course our written work still has to meet academic standards – in Year 1 we had to produce a research portfolio which, in my case, was a series of essays reflecting on what we had been taught and what I had read.

I had never been to Middlesbrough before – I'm from Warrington – but I settled in well. I lived in halls of residence in my first year, and now I'm sharing a house with other dance students. My social life also includes taking time to attend performances at Middlesbrough Institute of Modern Art (mima) and Stockton Arts Centre to keep my creativity fresh.

In Year 2 I'm particularly enjoying the Dance for Camera module – we learn how to create dance pieces specifically to film and edit. At the end of the year I will be spending three months, with two other Teesside students, at the Ernst Busch Academy of Dramatic Arts in Berlin. The teaching will be predominantly in English but I'm learning German from friends so I can cope with ordinary life there. The option of an exchange was another of the reasons I chose Teesside.

What next?
My long-term ambition is to have my own contemporary dance company. I'd like to challenge the conventional image of dancers – petite, pretty girls who trained in ballet. I'd like a company which focuses on how people dance, not how they look.