Partnership helping students to make the news
Teesside University has teamed up with a regional news outlet to give students the opportunity to pitch their ideas and dictate the news agenda.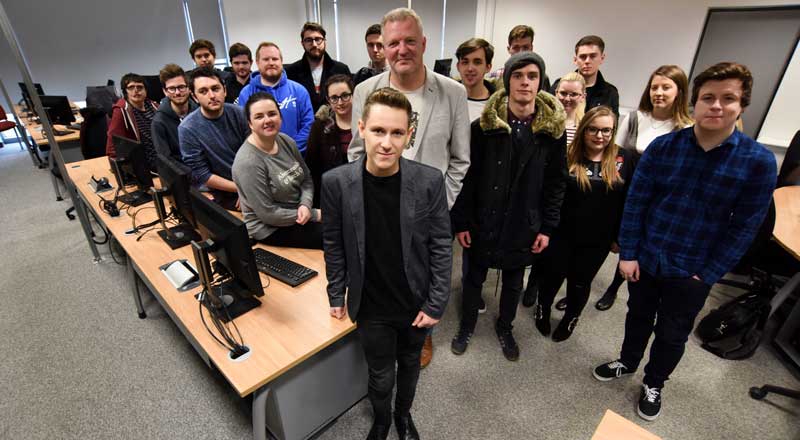 Jordan Mann, News Editor for Made in Teesside and Made in Tyne & Wear TV, is working with journalism students at Teesside University.
Visiting every fortnight, Jordan is encouraging students across all levels to pitch their ideas for news, sport and entertainment pieces which will be used across the Made in TV platforms. There is also the opportunity for info-graphics and animation students to get involved.
As well as pitching their own ideas, Jordan is also asking the students to get involved in the company's projects, contributing to live broadcasting and the coverage of events.
Made in TV is a group of eight local television stations covering different regions. A number of Teesside University graduates have gone on to work for Made in TV, including Nathan Lee who has since joined ITN News in London and Amani Ibrahimi who recently joined ITV News.
Paul Bailey, Senior Lecturer in Media in Teesside University's School of Computing, Media & the Arts, said: 'This is a great platform and an excellent learning opportunity for our students. It gives them the chance to work alongside an established news provider and to understand the whole process a lot better – from research and news gathering, to reporting and live broadcasting.
This is a great platform and an excellent learning opportunity for our students.
'It is an excellent partnership for both of us – the students are getting a first-hand experience of working for a news broadcaster and contributing ideas which they are passionate about, and Jordan is getting a fresh perspective from young people who, in a couple of years' time, will be looking to make their way into the industry.'
Jordan added: 'There is a great deal of talent at Teesside University and we have a lot of graduates who come and work for us once they have finished studying.
'I am looking forward to working with the students even more and seeing what they can come up with. It is a great relationship and one that I hope will continue.'
---