Nathan Cooke
Nathan enjoyed being a dental nurse but the dental hygiene and dental therapy course will help him achieve his goal of being more involved in patient care.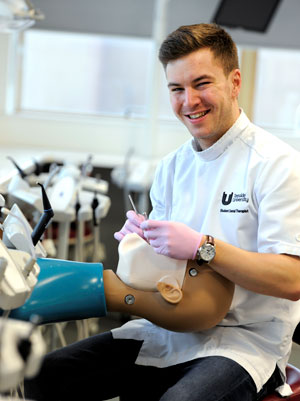 BSc (Hons) Dental Hygiene and Dental Therapy
I trained as a dental nurse before applying to the course. I thoroughly enjoyed being a dental nurse and experienced great job satisfaction; however I wanted to better myself and be more involved within patient care. I enjoy the practical elements of the course and being able to give care.

My favourite modules have been Dental Therapist Clinical Development in my 3rd year and the Introduction to Restorative Skills in my 2nd year. I feel my strengths are practical rather than theoretical, so have really enjoyed these practical elements.

The modern facilities and being awarded University of the year in 2009 were great reasons for me to choose Teesside. The campus is great and I especially enjoy the library, which has let me to work to the best of my ability.

I have stayed in University accommodation and it was a great way to make friends and build a platform for my second and third years. I was in King Edwards Square and the set up was fantastic, I thoroughly enjoyed it.

Studying this degree course will help my career and give me a benefit over dental therapists who have completed a diploma course. I look forward to entering a job as a dental therapist.