Paul Hunter
Paul was a mature student, and went straight into a job using his new skills.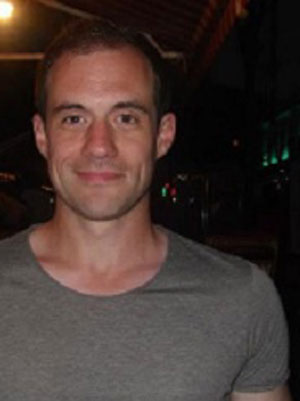 BSc (Hons) Diagnostic Radiography
What brought you to study at Teesside University?
I was working in a dead-end job when I decided to train in a more meaningful career. I had always excelled in anatomy and physiology at school and having attended the x-ray department myself one day, I thought that radiography may be the career for me. I spoke to friends who were radiographers, and they helped me decide and encouraged me to pursue the career. Due to personal circumstances I was restricted to studying at either Leeds or Teesside University. The course content and learning structure at Teesside seemed like a much better option for me, and the welcoming attitude of the staff at Teesside helped confirm my choice.
What was the course like?
As a mature student I was slightly nervous about how I would be received by others, but my fears were unwarranted, as I met many friendly and helpful students and staff alike. The course was well run and the support provided by all was excellent. The University's close links with the region's hospitals also provides a fantastic opportunity for learning. The first year of studies gave an excellent grounding and knowledge base from which to develop, and the following two years provided more detailed technical, ethical and professional aspects of the role of a radiographer. Academic staff were always available to provide help and guided me towards achieving my potential. Throughout my clinical placements, I was provided with the best possible opportunity for learning. Helpful and knowledgeable staff allowed me to develop my technical and patient focused skills, whilst also making me feel a welcome part of their team. I was also impressed by the way that the university rewards students' performance, having personally received the Professor Oglesby Award and an Entrepreneurial Award during my studies.
What are you doing now?
I work as a diagnostic radiographer at County Durham and Darlington NHS Foundation Trust. I perform general radiography as part of a shift system. This includes emergency, mobile and theatre radiography and involves imaging patients who have been referred by their GP, patients involved in trauma, in-patients, outpatients and patients undergoing surgery. In the few months following my appointment I have learned and developed quickly, and as a result, I am now confident in most aspects of my job role. As a result of my academic and clinical performance, I have also been fast-tracked into CT training, which I am due to start in the next few weeks.
What are your ambitions?
In the longer term I would like to become a student mentor, as I enjoy helping others and feel that I now have sufficient knowledge of the degree programme for me to train future diagnostic radiographers. I also have an interest in both reporting and forensic radiography and hope to undertake postgraduate training in at least one of these disciplines at some point in the future. Moving on further from student mentoring, at some point in my career I would like to make the transition into teaching and have an ambition to become a lecturer in diagnostic radiography.