Sue McGeoch
Sue's practical placements in local NHS Trusts helped to ensure she was work-ready.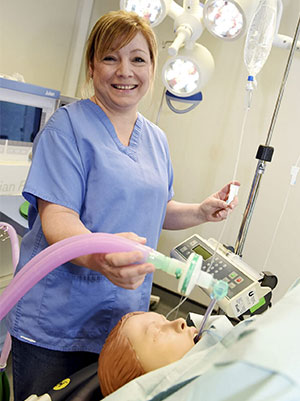 Diploma in Operating Department Practice
'I've worked as an Anaesthetic and Recovery Operating Department Practitioner since graduating.'
What brought you to study this subject at Teesside University?
I wanted to change my career path, so I completed an Access to Higher Education course at a local college. It was here that I learned about Teesside University and I then attended University open days. I chose Operating Department Practice (ODP) as I had wanted to work in theatres for some time, but I didn't want to study the traditional nursing courses to get there.
What did you enjoy about your course?
I enjoyed everything, from the practical placements to lectures, and making new friends. My favourite modules were Legal, Ethical and Professional, and Anatomy and Physiology as they gave me the background knowledge I needed for my hospital placements.
What was your social life like at Teesside?
As a mature student I didn't get very involved in University life, but I know Middlesbrough well and the University is surrounded by great bars, restaurants and shopping, all within a short walking distance. The Students' Union was also a good place to meet up and offered affordable good food and drinks. I made some very good friends on my course that I still socialise with nearly two years after graduating.
Can you tell us a bit about your career since graduating?
I have worked as an Anaesthetic and Recovery Operating Department Practitioner since graduating. Initially I worked at a local NHS Trust, but I'm now working in the same role for Ramsay Health Care at Tees Valley Treatment Centre in Middlesbrough. The hours are sometimes very long, with shifts anywhere between four and 13 hours long with minimal breaks. It is, however, very rewarding, looking after patients during what is often an anxious and difficult time in their lives. I have since returned to Teesside University, studying part-time towards BSc (Hons) Integrated Care Studies. I wanted to study the top-up degree for both my own personal satisfaction and future career options.
How did your time at Teesside help prepare you for your career?
Without this course, I would not have been eligible to register with the Health and Care Professions Council as an ODP and wouldn't be able to work in this role. The practical experience I gained on placement at a local NHS Trust ensured that I was ready for work when I graduated and my Practice Placement Educators and mentors were amazing. When I applied, the course at Teesside offered modules such as Pharmacology that were not available at other universities I looked at – this has been vital and very useful to me in my current role. I would definitely recommend Teesside University and my course to others.