Alan Ayling
Alan came to Teesside as a mature student and has just completed a successful first year.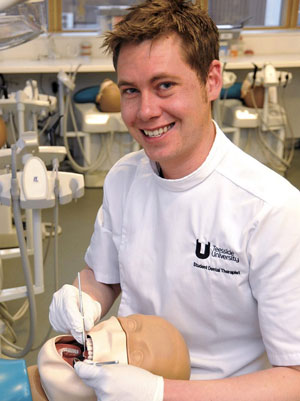 BSc (Hons) Dental Hygiene and Dental Therapy
What brought you to study dental therapy at Teesside?
After school I worked in my father's plastering business for ten years, then I looked around for another direction, and thought about healthcare. A dentist friend suggested dental therapy. I shadowed dentists and hygienists and found the dental profession fascinating and worthwhile. I have always worked with my hands, and I wanted to do hands-on therapy. I took a science based Access course in my home town, Derby, and joined the Teesside course in 2011.
What's the course like?
The tutors are excellent. There are 12 of us in my year, some of whom have been dental nurses formerly, now going on to develop their careers. I was pleasantly surprised by how quickly we started doing practical work. In the first term we practised using instruments on phantom heads. Then after a month practising on one another, we have been working with real patients for the rest of this year carrying out treatment. We see one patient a day, for 90 minute appointments, working with a fellow-student and taking turns to act as one another's dental nurse – under supervision, of course. Patients are referred to us by the dental practice located in the Centuria building, and by practices around Middlesbrough, so we are filling a gap in dental therapy provision. We also have theory lectures, a lot of reading, and essays to write. Next year, the work ratchets up with additional clinical development such as carrying out anaesthetics, fillings and radiography – we will see two to three patients a day, shorter treatment sessions, and more essays and exams.

As a mature student, I concentrate on my work, but I socialise with fellow-students on the course and people from the hall of residence I'm living in. Sports-wise, I play badminton.

What next?
Dental therapists do about 80% of the work a dentist would do, so it's quite a challenging and rewarding profession. I think I would like to work in a referral clinic eventually, doing in-depth work on more serious cases. It is possible to take extra post-grad courses in cosmetic whitening and also botox and dermal fillers, go on to be a practice manager, teaching, research, or go on and qualify as a dentist, but I'm not thinking that far ahead.