Amelia Bonner
Amelia is managing to study part-time while working full-time – and already benefiting from her studies.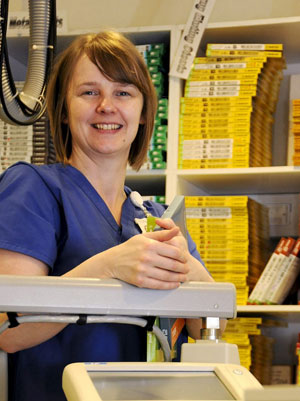 MSc Service Improvement
'I'm already finding that my course helps me to do my job better.'
What brought you to study Service Improvement at Teesside?
I'm from Hyde in Greater Manchester, and I studied radiography at the University of Salford. After I graduated I worked in district hospitals and then in Manchester Royal Infirmary. I specialised in vascular and interventional imaging and was promoted to team leader. When my partner, who is a doctor, got a job in Middlesbrough, I moved with him and now I work in cardiology at the James Cook Hospital. If you're working at team leader level, it's almost expected that you'll study at master's level, and I was glad to find that Teesside offered an appropriate course.
What's the course like?
It's hard work, because I'm studying part-time while working full-time. I manage my own diary and fit in classes during the day by stretching my working hours. I plan my study time about two weeks ahead as well as longer term around deadlines for getting assignments in and try to have a buffer for unexpected events. The group dynamics of my cohort are excellent – we have gelled quickly, we are trusting and non-judgemental, sharing and learning from each other.

I'm coming to the end of the first year of a three year course. It's very people-oriented – about managing yourself and others as well as the practical aspects of service improvement. I'm already finding that it helps me to do my job better. Putting the theory behind what I do is reassuring; it gives me greater confidence in my judgement.

What next?
I'll continue in my current role and I'm confident that completing the MSc will benefit my career progression and make me better at my job.