International study aims to reduce the risk of falls in individuals with COPD
Researchers in Teesside University's School of Health & Social Care are collaborating with researchers from West Park Health Care Center in Toronto Canada to carry out a study to see if they can help reduce the number of falls for people with Chronic Obstructive Pulmonary Disease (COPD) who are attending pulmonary rehabilitation (PR).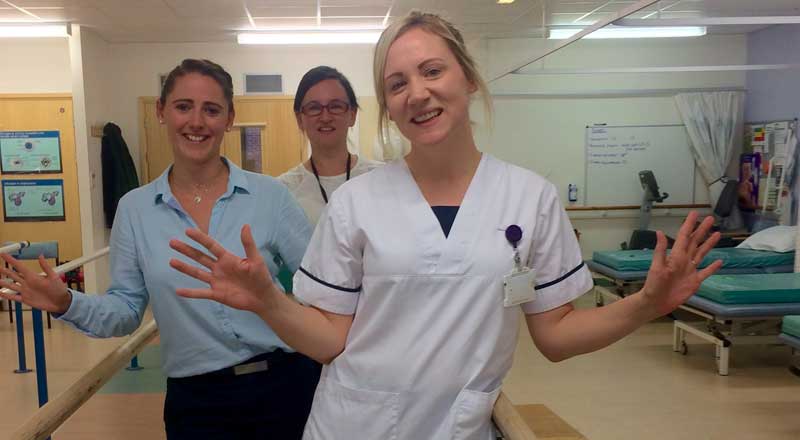 People living with COPD have problems with their balance and have a high number of falls compared to those of a similar age without COPD.
The international study has received funding from the Canadian Institutes of Health Research and participants are being recruited at 10 sites across four countries – UK, Canada, Portugal and Australia.
Samantha Harrison, Principal Lecturer (Research and Innovation) is the site lead for the UK part of the study and is working with clinicians at James Cook University Hospital.
PR is recommended for individuals with COPD, however, these training programs do not typically include balance training or fall prevention strategies.
The study aims to determine if a tailored balance exercise program can reduce falls in people with COPD who are enrolled in PR.
Patients with COPD enrolled in a PR program who report problems with their balance or have had a fall in the last two years and consent to participating in the study will be assigned to an intervention group (balance training plus PR) or control group (standard PR).
Participants in the intervention group will receive tailored balance training two times per week and one home balance exercise session alongside standard PR.
The number of falls over 12m following completion of PR will be recorded using monthly diaries and the patient's balance control, balance confidence, strength, and quality of life will be evaluated.
The funding for the study has helped to pay for a research assistant employed by Teesside University, as well as balance equipment for the hospital.
The study has recently started to recruit participants and will run for two years.
---
In the News
New Chancellor takes up role at Teesside University
BQ Magazine, 13/10/2017; North East Connected; 13/10/2017; ITV.com, 14/10/2017; Insider Media Limited, 18/10/2017
Business leader Paul Drechsler CBE has been officially installed as Teesside University's new chancellor.