Midwifery students scoop top society award
Midwifery students were celebrating after winning recognition at the annual Societies Awards.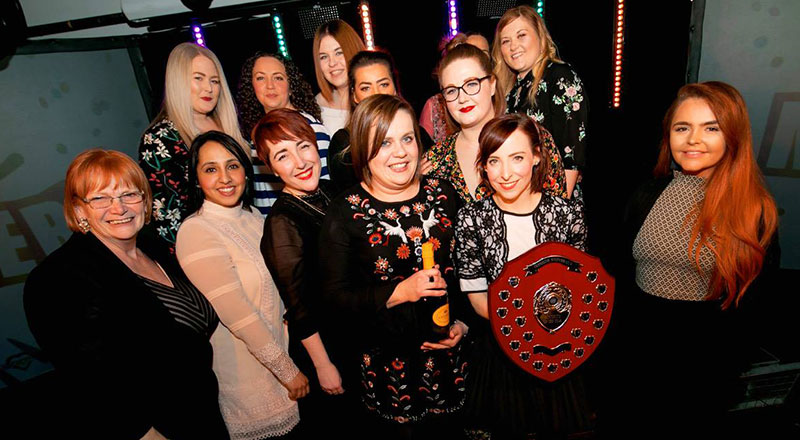 Hosted by Teesside University Students' Union, the Societies Awards took place on 15 March and recognised exceptional groups and individual members of the societies.
The Midwifery Society picked up the coveted Society of the Year title after a busy year of developing the society and focusing on enhancing their members' employability.
Meanwhile Occupational Therapy took home the Most Improved Society award after completely rebranding the society. Amongst their achievements, the students held a post-natal knit-off event, knitting and donating hats for premature babies to the James Cook University Hospital.
Fay Polson, Senior Lecturer in Midwifery, said: 'I am delighted to see the Midwifery Society pick up the title of Society of the Year. They have worked extremely hard in establishing the society and have been striving to enhance the employability of their members.
'They are a credit to the course and I am sure they will go on to enjoy success in whatever they choose to do next.'
Amy Preston, President Activities at Teesside University Students' Union, said: 'It's always an honour to recognise our many brilliant societies and, although we always say it, we really did have some very difficult choices to make.
'Many societies and their individual members excelled this year and I want to thank everyone for their efforts and of course congratulate all of the wonderful nominees and winners.'
Full list of winners:
Most Improved Society – Occupational Therapy Society
Best New Society – Net Ethical Hacking and Hardware Society
Society Committee of the Year – Law Society
Best Society for Enhancing Employability – Chemistry Society
Most Enterprising Society – New Designers Society
Achievement of the Year – Enactus Teesside
Societies Personality of the Year – Ollie Pepper, Table Top Gaming Society
SU Learning Community of the Year – Computer Games Creation Society
Society Stripes Awards – Midwifery Society (15 points), Computer Games Creation Society (14 points), Occupational Therapy Society (14 points), Click Teesside Society (13 points), New Designers Society (13 points), Net Ethical Hacking and Hardware Society (13 points)
Society of the Year – Midwifery Society

---
---