Martin Axon
Martin is a graduate trainee at Rolls-Royce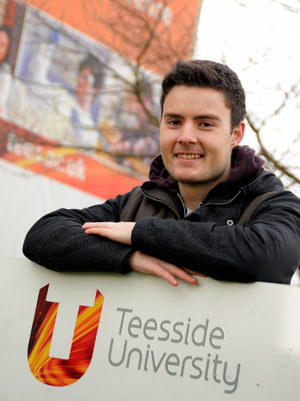 MEng (Hons) Mechanical Engineering
I secured a role with Rolls-Royce which designs, manufactures and distributes power systems as one of the world's largest maker of aircraft engines.

As part of the selection process for the Rolls-Royce graduate scheme I was invited to an assessment day at their headquarters in Derby, which resulted in me being offered a place on their graduate scheme as a manufacturing engineer.

It was great being able to find out more about the company in person. I start work with them in September this year, based in the Rolls-Royce's nuclear business, providing manufacturing support.

Mechanical engineering is a very broad subject and the course at Teesside University has given me a great deal of knowledge in many of these areas. I've had a mix of in-depth classroom work and had the opportunity to be involved in more practical group projects.

The course has equipped me with the skills needed for my chosen career, while taking me to the high standard required by a world class engineering company.

I've built a solid understanding of mechanical principles, became adept at using the latest computer software, gained strong team working skills and developed a professional approach, whatever the task assigned to me.

What I've enjoyed most about my experience at Teesside is making some fantastic lifelong friends and being able to indulge my passion for engineering. I would absolutely recommend Teesside University to any potential future students.

There is a really friendly atmosphere which is backed up by a very high level of teaching and excellent facilities.