Rob Richardson
Rob came to Teesside University as a mature student through Clearing, and has made the most of it.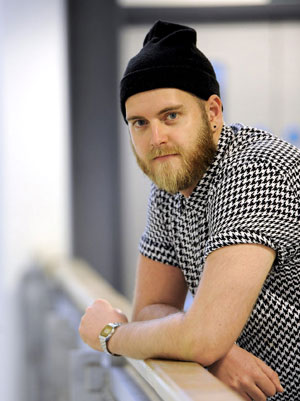 BA (Hons) Graphic Design
You came here through Clearing - tell us more?
After school I went into the building industry, working for engineering companies. I did design work, with occasional site visits and liaison with clients. I taught myself graphic design, acting as the in-house designer of promotional materials. After I won a design competition run by the local paper, I realised that I was better at graphic design than at my day job – I certainly enjoyed it more. If I thought of studying graphic design, I was nervous about leaving a well-paid secure job. This went on for some years, until my wife encouraged me to make the leap. She told me it's not too late – go for it. She has a good job, so we are financially secure.

I phoned the University in July 2013, and spoke to Mike O'Malley. When I met him and showed him my portfolio – freelance work I had done for friends – he was impressed, and told me to apply through Clearing. Next thing I knew, I was a student.

How are you finding University life?
I have thrown myself into University life. I am a student representative, I organise social events, and I set up a private Facebook group for graphic design students. The student group includes people of all ages, and there are some really talented people. We all get on well, everyone is positive, we help one another, and occasionally let off steam. We do a lot of studio-based work, and the facilities are excellent – we have a 3D printer in the workshop, and the workshop staff are so helpful. We share the workshop with product design students, and they are interesting to mix with.

After putting it off for years, I want to make the most of this opportunity. I'm not in it just for the degree, but for a career, and I want to prepare myself for success in the industry. I got 90% for my first project, and 93% for my second project, so I'm reassured that I made the right decision and I'm a bit more relaxed now. I set myself a schedule to make sure I get work in on time, and do some work in a studio I have set up at home.

The teaching staff are brilliant and supportive – you can always sit down for a chat. They also organise external lecturers from the industry – they give a talk, then come to the studio to meet us and see what we're doing. It's another opportunity to learn, and make contacts.