Lewis Tull
Lewis is now studying MSc Advanced Organic Chemistry.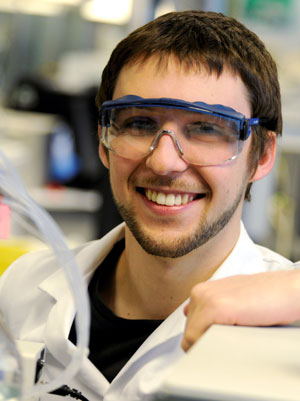 BSc (Hons) Chemistry
'The lecturers are superb and the class sizes are kept small so we got lots of one-to-one contact.'
I've really enjoyed my degree – you really do get from it what you're willing to put in. While on industrial placement I completed offshore survival training and travelled to Wales and Holland, where I was involved in delivering a detection pipeline investigation gauge used in subsea pipelines.

The degree has given me a massive amount of laboratory experience and I was employed by the University to conduct research into hydrothermal carbonisation of microalgae, as well as working on my final-year research project which complements my studies.

The lecturers are superb and the class sizes are kept small so we got lots of one-to-one contact. All the lecturers are experts in their field, with industrial experience and postdoctoral experience at an academic level.

In my final year at Teesside University I was selected to take part in the Voice of the Future 2013, an event marking National Science and Engineering Week. I was just one of six students nationwide invited to put questions to MPs at the House of Commons. I asked the Minister for Universities and Science, David Willetts whether he feels MPs who are given a ministerial role can be expected to be competent if they have no experience of having worked in that particular field. It could be that a government minister for science may have no experience of working in that industry, or similarly with the minister for health or transport.

I am now studying a master's degree at the University of East Anglia. I'm focusing on the organic synthesis of compounds with potential therapeutic roles against Alzheimer's disease. I have been awarded a scholarship by the Royal Society of Chemistry to embark on secondary teacher training.

I had opportunities to mentor other students throughout my course which helped prepare me for my upcoming role as a teacher. As I've always wanted to teach, chemistry (a shortage subject) was the most logical option - my final grade determined my scholarship amount and Teesside gave me every opportunity to excel.