Craig Hoggett
Craig came here as a mature student, and went on to a PhD and a successful career in industry.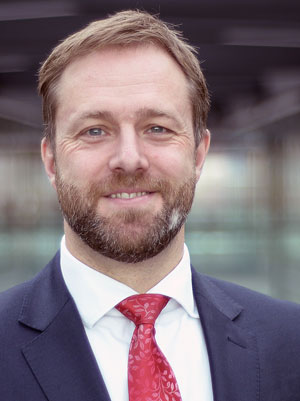 BSc (Hons) Process Biotechnology, 1997
What brought you to study at Teesside University?
I'm from Middlesbrough so I always knew about Teesside University. I left school at 16, worked, got a BTEC, but knew I could do better. I was 23 when I started my degree. I talked through various study options with Dr Julie Watson from the Science faculty who offered a really objective and encouraging perspective. I chose Process Biotechnology because it was so wide-ranging in the first year and offered a modular structure for the last two years so that it seemed to cover all my areas of interest..
What was the course like?
It was a great course. The quality of the studies surpassed all my expectations. The course seemed to cover every possible aspect that an employer might be looking for in a graduate. Teesside isn't a glamorous university, so the staff made sure we had the extra skills to give us an edge. Two things in particular have been so important to my subsequent career: the explicit training in research methods and writing up results; and a lot of practice in presentation skills.

I was fortunate enough to land a role with ICI petrochemicals at Wilton and that really helped me think through the practical applications of what I was learning. For me, the most important thing I learned is what I like doing: I learned that I enjoy taking learning from one subject and applying it to different challenges that might not seem immediately relevant but turn out successful results.

What did you do next?
I graduated in 1997 and decided to take an opportunity with what was then known as British Nuclear Fuels Ltd (BNFL) and embarked on a three year PhD opportunity that was completely outside of what I had studied as an undergraduate. I worked with various organisations, including the OECD NEA and IAEA, and people from multiple countries like the US, France, and Japan to name a few. It was great experience and probably the most difficult thing I've ever done. I found the grounding in research methods taught on my undergraduate course at Teesside really helped me from day one.

After receiving my PhD in Statistics and Modelling Science from Strathclyde University, I moved on to consulting, working for Accenture, one of the world's largest technology consultancies, for a couple of years before leaving to join BP. At BP I enjoyed a great freedom to operate and learned a lot about their industry, which has stood me in good stead, and I also managed to recruit a fellow Teesside alumni from my undergraduate degree who still works in a senior role globally with the business today. I left BP in 2008 and joined Ernst & Young LLP (EY) and have worked with an amazing array of clients, which feeds my need for variety and accommodates my lack of patience.

What are you doing now?
I am a Partner with Ernst & Young LLP. As a Partner in our UK Advisory business, I work predominantly with our Energy and Assets clients, which are mostly Power and Utilities and Oil and Gas clients in the UK and also include Mining and Metals overseas. I have a market-facing role that is concerned with the challenges our clients face, and internal roles focused on the health of our business, which means our people. I work with businesses to make them more effective and efficient without people losing their jobs. I really enjoy the balance of working on a range of things from our people and their career development to our clients and how they might structure their new business or design a new enterprise-wide technology to better enable remote staff. The work is varied, fascinating, demanding and has taken me to New York, Boston, The Hague, Bucharest, London, Reading, Aberdeen and Solihull in the past five years alone.

Being invited to join the Partnership at EY has been a major career achievement and I am still learning just how much this opens up the possibilities for my future. I will always seek to learn new things, and right now I'm looking at various distance learning courses to try learning something completely different and new.