Lewis Pennicott
Lewis has started his own business, marketing a product he designed during his degree course.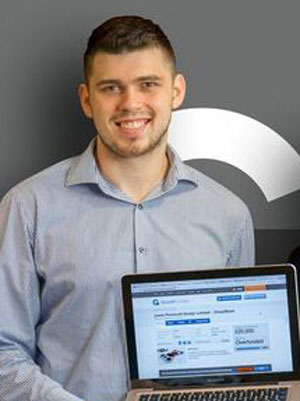 BA (Hons) Product design
What brought you to study at Teesside University?
I studied mechanical engineering at college, but when it came to university I wanted to do something more creative, so my college tutor suggested product design. After researching product design I realised this was what I wanted to do. I read about some ex-students from Teesside who had also done product design and saw how successful they have become, and decided to come for an open day. After seeing the studio and having a go on some of the software, I knew Teesside was the place for me.
What was the course like?
You really feel like you've joined one massive family. It's a great course which teaches the essential skills needed to be a top product designer. I enjoyed the relaxed environment, and how helpful the tutors were. The social life was also great, and joining the American Football team was one of the best decisions I have ever made. I made some great friends during my time with the team and I'm sure they will be friends for life.
What are you doing now?
I have set up a company to market a product I invented while at university. Chop2Bowl is an integrated set of chopping boards – colour-coded to avoid cross-contamination between raw meat and vegetables – and bowls to hold the prepared food. It saves space, it's hygienic, and it's efficient.

I have been working full time to get Chop2Bowl to market. I go to any meetings that contribute to the development of the business – with potential investors, with the company creating my website, and with the company helping me with design and production. I also run all the company's marketing through social media. I love social media marketing as I can see first-hand what people are saying about my first product and how excited they are to buy one. This in turn motivates me even more to get my product to market.