Jodie McArdle
Jodie fits sport and volunteering in with her studies.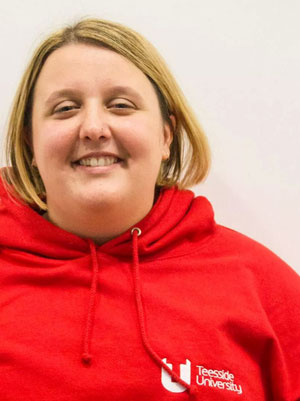 BSc (Hons) Crime Scene Science
What attracted you to study at Teesside University?
I have had a great interest in forensic science for many years but wanted to be out in the field rather than confined to a laboratory. I chose to study at Teesside University because of the fantastic reputation it has in the field of forensic and crime scene science, also the equipment such as the crime scene house and vehicle lab.
What is the course like?
I find it a great help being taught by lecturers who have actually worked within this role so they can give first hand experiences and what they have found. I love being able to have a hands on role, within the practical sessions, to put theory I have learned in lectures into practice. One of my favourite modules is specialist photography, because the teaching of it is first class and it is also a lot more of a practical module.

The services offered at the university are brilliant. I have used the finance and careers advisors in the Student Services both of which were very knowledgeable in their fields and helped me to sort out the issues which I had.

What else do you do?
I am an active member of the Teesside University Archery Society. We meet twice a week and it has helped me to expand my friendship group whilst participating in a new sport. I am a part of Volun-tees with which I held a MacMillan Coffee morning within the university and raised just short of £400 I also helped them with a Christmas party for carers of ill people. I also am an International student mentor helping students with any issues they may have, such as just settling in to things such as confusion with timetables. I find this very rewarding being able to help other students like I have been helped previously.