Lexy Sarginson
Lexy is spending a year working in industry before her final year.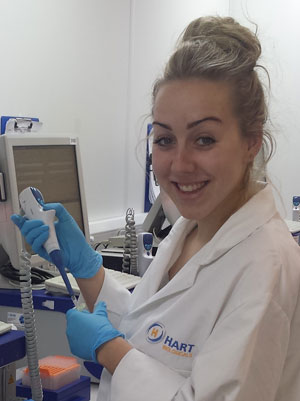 BSc (Hons) Biological Sciences
What brought you to study at Teesside University?
A career in biology has motivated me since secondary school. I appreciated that earning a degree would be one of the best ways to further a career within science, so I knew I wanted to study this subject. Teesside is my local university and was therefore one of the first I looked up. The course offered at Teesside seemed perfect for me, as it covered a wide range of subjects with a good proportion of study time within the labs. After the induction day, my family and I felt that Teesside was completely focused on my best interests and getting the best out of me as a student.
What's the course like?
I have enjoyed the lab time and how helpful the tutors are. The modules cover a wide range. The ones I have enjoyed the most have been Genetics & Molecular Biology, Biodiversity & Evolution and Human Metabolism. I have particularly enjoyed these subjects, as this is where my interests lie. The services offered throughout university have been extremely helpful, in particular the careers section. I have also taken advantage of the Boost scheme, completing two completely different summer placements, which have given me fantastic experience. Teesside is good at getting you ready for a successful career within your specific field, and this has been a key focus throughout my whole experience. I have also been surrounded by friends, who I have enjoyed spending time with and who have been an excellent support network.
And now you're on a one-year placement?
I am currently working at Hart Innovations, where I am involved in several research and development projects relating to point-of-care blood coagulation monitoring. The opportunity of having a year in industry has provided me with the experience of working within a team in a working scientific environment, allowing me to apply the techniques I have learned so far. Doing a year in industry is allowing me to experience areas which I may wish to pursue that I would perhaps not have thought about.