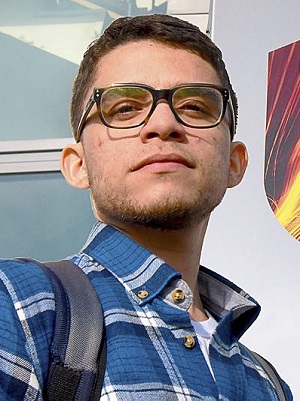 BA (Hons) Graphic Design
The range of skills I am building here will make me stand out from the crowd, mainly when I get back to Brazil. I have learnt a lot about myself as a professional, how to behave and present myself professionally, how industry works and what companies expect from me.
Why did you choose to study at Teesside University?
I am a student from Fortaleza, Brazil. I came to the UK on the Science Without Borders Brazilian government scholarship scheme and chose Teesside University from a list of recognising institutions in the UK.
What attracted you to the BA in Graphic Design?
I was looking at the module names of the courses offered by the universities who were part of the Science Without Borders programme. I wanted to see what I could study in each university and what the modules they offered were about. I didn't want to repeat modules I had covered in Brazil, I wanted to learn something new and relevant. I also wanted to study a broad range of modules. I like interaction design, but I also wanted to learn printing, branding, motion, etc. I had the option to keep my study programme flexible at Teesside. Another important reason is that the designers that I admire most are British. I thought "that is a great opportunity to get the knowledge from the source".
Tell us about your experience at Teesside University so far.
My tutors have been lovely – they are so great. They help me develop a lot and help me when I have doubts or questions. I can speak frankly to them and they reply frankly. It's a really nice relationship. The tutors advise us really well. There are 30 of us in the class, but somehow the tutors manage to advise each one of us individually on our different projects.

In the beginning it was hard for me to get used to the idea of independent study days. Usually in Brazil the teacher gives you work to do and you complete it – independent study is not so common, we don't have so much freedom. I told my tutor, if you give me that much freedom I won't do the work! Then when I got my first grade I couldn't believe it, it was 80, one of the highest scores in my class. I wanted to frame it and put it on my wall! Now I am used to that much independence and it is something I really like. I can do things in my own way.

The other thing I really like is the facilities. I will really miss them! The printing workshop, all the materials for binding books, you can do screen printing, you can print tshirts for free, the 3D workshop, laser cutting, free wood to do anything you want. You don't need to ask for supervision, they trust you. You can borrow cameras, projectors, tripods. It's amazing how great the facilities are here. I haven't even used them all yet, but I will!

A lot of the leading design work in the UK is happening in London, but what's great is that people always come to us to speak to us here in Teesside, they tell us about internships we could do. It means London doesn't feel so far away. The tutors always encourage me to do an internship, but London is very expensive. But there are lots of opportunities in Manchester and Newcastle, nearer to us.

We think it would be really great to finish our course here instead of going back to Brazil. We could accomplish so much more here.

Tell us about your daily life as a student here.
I love the fact that the campus is really compact and it is close to my house. I don't need to wake up early to come to my lectures.

The Student Union building is a lovely building, they spent tonnes of money building the campus.

The library is also lovely and just five minutes from my house. I'm close to the supermarkets, and I can use the gym on the university campus.

I have joined the archery club and I also do Zumba. There are only two guys there but I really miss Brazilian dancing and it's the closest thing I have found. The gym membership is a really good thing, you also get access to the Neptune centre for swimming and the gym trainers are really good. It's really, really cheap, just £100 for the whole year for access to the gym, fitness classes, pool, football arenas and climbing wall.

I love the university accommodation. I wish I could teleport my room back to Brazil, it's really big and it's really nice. Our kitchen is quite small but we work well in it. I like living in Kings Edward Square, it's in the centre of everything. I'm lucky because I have the best housemates.

Would you recommend Teesside University to other international students?
I would definitely recommend Teesside University. People studying my subject area will increase and develop their professional skills. They can dive into the course, be focussed on their studies and have great tutors, without too many distractions that you might find in the city. We still have enough money to travel, it's halfway from the highlands and the south of England region. Everyone who works here is really nice, the staff are really friendly.