Lui Zatrak
Lui has gone straight into a job using his product design skills.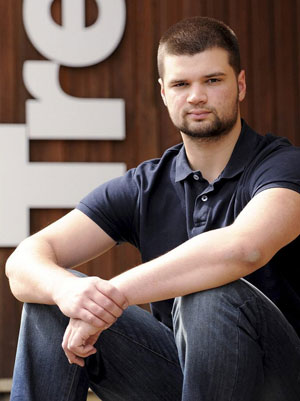 BA (Hons) Product Design, 2015
What brought you to study at Teesside University?
I was intrigued about what university has to offer, and I knew how beneficial a degree could be for my future career. I wanted to stay in education for as long as possible to gain valuable knowledge and qualifications.

My college tutor told me that Teesside University has a very good course for what I wanted to study, Product Design. This made me want to go and see more of Teesside University at an open day. That one day seeing the campus and how good my chosen course looked, the genuinely friendly environment and excellent facilities – I had to come to Teesside.

Seeing that the Product Design studio was an open area where people interact with each other and the lecturers were always just a door knock away was fantastic. It was clear to me that that was where I wanted to spend my next three years. I was shown examples of past students' work and was told of their huge successes, which made me want to achieve the same things.

What was the course like?
I enjoyed absolutely everything about Product Design, including learning new skills and learning how to apply them to real life situations and projects. The great thing was that I got introduced to many new skills and was guided to continuously improve on them.

I was a student ambassador which involved showing potential students around the campus and informing them of all the facilities that the university has to offer. This improved my confidence in talking to new people and explaining to them why they should come to Teesside.

What are you doing now?
I have a job in line to start as soon as I graduate. The company, Treske, is a bespoke furniture manufacturer. The role is a CAD Designer, working as part of the design team to ensure accurate manufacture of beautiful furniture.

I applied for summer work experience during my second year, and Treske was one of the places I applied to. Although I was unsuccessful, the managing director replied that he would would keep me in mind. Later, my lecturer Mark Freary posted a job vacancy on our Product Design Facebook page. The job advertisement was from Treske, looking for a CAD Furniture Designer. I applied, the managing director remembered me, they interviewed me and I got the job. This shows that applying and approaching companies, whether you are successful or not, is still great for putting your name out there and making yourself known.