Peter Arnold
Peter enjoyed skydiving in his spare time, and since he graduated his career has taken off.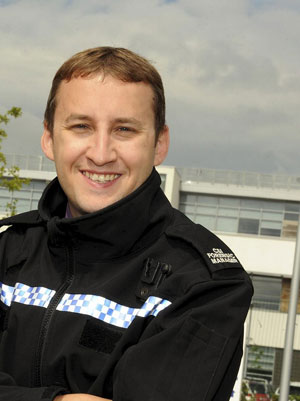 BSc (Hons) Applied Science and Forensic Measurement
'The studies were directly relevant to the world of crime scene investigation.'
What brought you to study at Teesside University?
By chance. I was perusing prospectuses at my sixth form college in Harwich and a photograph of a skull with oblique lighting drew my attention to the forensic course! I had no idea where Middlesbrough was or that it was so far away from my home. I attended the open day and was really impressed with the campus. It felt a very comfortable place to be. I was also impressed by the Students' Union and the friendly staff I met. The course looked exciting and I got the grades I needed.
What was the course like?
The studies were directly relevant to the world of crime scene investigation, as was the additional certificate that I studied for. My part-time work was also useful as it was in a technical field and I was able to demonstrate many skills in addition to academic knowledge which I believe helped a great deal in getting my first job.

I got really involved with the Students' Union. I signed up to the skydiving club within my first week and volunteered to act as Secretary before I'd even done my first jump. I continued this all the way through, attending events all over the country and jumping out of planes.

I found work in the Students' Union as a Technical Assistant and later as a Technical Supervisor, overseeing the sound, lighting and technical arrangements for all Students' Union entertainment events including the May and Graduation Balls. I met lots of celebrities and worked lots of hours, which helped me finance myself through all four years. I had a great social life, much of it through friends at the Students' Union.

What did you do next?
I worked as a forensic vehicle examiner for West Yorkshire Police before being promoted to crime scene investigator (CSI) for the next four years. In 2007 I moved to Greater Manchester Police as a volume crime scene supervisor and later acted as a senior CSI. In 2008 I returned to West Yorkshire Police as a CSI supervisor and crime scene manager.
What are you doing now?
I'm now an area forensic manager as part of the newly formed Regional Scientific Support Service which provides Crime Scene Investigation and Forensic Services to the four Yorkshire and Humber regional police forces.


I am directly responsible for a team of 30 crime scene investigation staff providing day-to-day forensic services to local policing districts. I co-ordinate the forensic response to serious and major incidents at the point of initial investigation through to longer term forensic strategies and the court processes. As part of the management team I have additional region-wide responsibilities with regards to specific projects and areas of expertise. I love my job which is why I am committed to it 24/7.