Muneeb Shahid
Muneeb came to Teesside after their Times Higher Education Awards success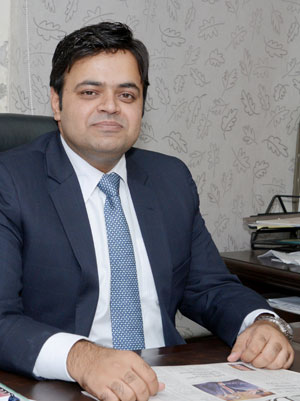 MSc Petroleum Technology
'Reaching the position I am working in now would have taken at least another ten years without my degree. The course definitely offered value for money, it was totally worth it.'
I always follow the Times Higher Education Awards and in 2009 I saw that Teesside University had won two awards. Since then I started looking at Teesside University in more detail.
While looking for a university, I did a lot of research and what appealed to me about Teesside was the course and the university's profile. The course was very comprehensive and designed according to industrial demand. The lecturers were highly qualified and most of them had industrial experience.
My time at Teesside University helped me not only academically, but also in developing my confidence. The staff were always there to help. The modules I studied were very comprehensive and helped me in all fields of engineering. My dissertation was on a hazard and operability study. The guidance and constructive criticism from my supervisor helped me complete the dissertation successfully, which has helped me in my job when executing projects.
The thing I enjoyed most was the friendly nature of the staff. The lecturers always welcomed students for discussion. The library is very beautiful and studying there was one of the most awesome experiences I've ever had. I also enjoyed many parties at the Students' Union. The local food was really very good too.
After graduating I secured a very attractive position as senior manager of operations at Dairyland PVT Ltd. I used the knowledge and skills gained during my time at university and developed Pakistan's first ever extended shelf life product. I gained recognition from the dairy industry in Pakistan and went on to join one of the leading dairy companies in Pakistan, Haleeb Foods Ltd. Within six months I was promoted and my current role is head of operations.
My future ambition is to start my own dairy industry. All credit for this goes to Teesside University, as my experience there nourished my personality and developed me to become successful. I learnt how to think outside the box and how to achieve targets with limited resources. I benefited from the theory and practical application of the project management and enterprise module on my course and was successful in executing a number of capacity enhancement projects.
After my success at Teesside and in my career, I stood out as role model and members of my community decided to send their heirs to study in the UK. In doing this it helped them strive towards a terrific lifestyle, upgraded standards and bringing recognition to my community.
I would recommend Teesside University and the course because the degree gave a boost to my career. Reaching the position I am working in now would have taken at least another ten years without my degree. The course definitely offered value for money, it was totally worth it.