Craig Fell
Craig's time at Teesside University prepared him for the career he loves. He now runs an award-winning business and reflects with happiness on his time as a student.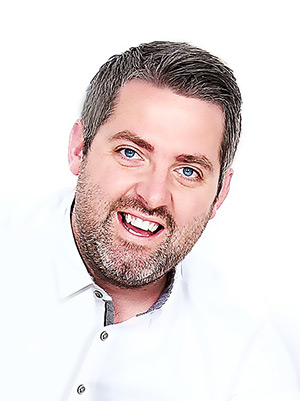 BA (Hons) Graphic Design
My experience at Teesside University was very positive. It taught me to think creatively and problem solve. This focus allowed me to truly find myself and hone in on my natural working style. I never felt like I had to conform in my studies to succeed.

My tutors at Teesside University were fantastic and all offered very different qualities. Their levels of enthusiasm for their students never faltered throughout my three years of study.

Studying on Teesside was great. I loved Middlesbrough as a place and made a lot of friends. The people of Teesside are the salt of the earth and it reminded me a lot of my hometown Blyth, which thankfully wasn't too far away.

I was a member of the University gym when I was studying and I loved all of the social events at the Students' Union. I always felt like I had so many friends around me at Teesside and I never really needed anything else. I worked part-time throughout my whole course so I was always busy.

Something I liked about studying at Teesside is that the campus is so compact. Everything I needed was in close proximity and you get a real feeling of community around campus as a result of this – I've revisited since my studies and I can see that things have progressed even further.

I found out about Teesside University originally through one of my college tutors – he'd visited and had been really impressed with the University's progress and the great reputation of its tutors. After meeting with tutors myself and going through my initial applicant interview, I knew Teesside University was where I wanted to study. The values of the place and the fact that there was no pretence really appealed to me.

I enjoyed my studies and I felt like my course offered value for money. You only get out of something what you put in – I'm not saying I am the hardest worker of all time but I really tried and I saw the results. The career prospects I have had from attending Teesside University are great. I've even managed to pay off my student loan!

I was lucky enough to be offered a good job straight after University thanks to exhibiting my work at the New Designers conference in London. Starting this job meant me moving to the north west of England and this is still where I am based.
I run my own business now, Boxed Red Marketing. My role covers a few key areas but my day to day job involves creatively managing and directing our studio whilst building and maintaining strong client relationships. My position has really evolved over the years – early on I delivered all of the creative myself. Now I'm lucky enough to have a team around me which means I'm able to take more of a strategic role.

Between my first job and starting my business I held a number of varying positions in in-house and design agency environments. I progressed through my career, becoming more and more senior until the time came where I felt ready to start my own business.

I'd really like to take my business to the next level and I would like us to have 20 staff by mid-2017. We are currently at 15. We've won some awards so winning a couple more would be nice too! I wouldn't rule out another business venture, but it's not time just yet.

I would recommend Teesside University and the course I studied to others in a heartbeat. It did me the world of good. I entered University as a young, naïve boy and left as a hungry and determined man. I learnt so much more than just how to design – I also gained life skills and my course readied me perfectly for my career, which I am proud of.

I'd love to think that one of my kids could attend Teesside University. My wife and I met on my course so a whole family has been made through my amazing time as a student.

Check out Craig's business.

Explore BA (Hons) Graphic Design.