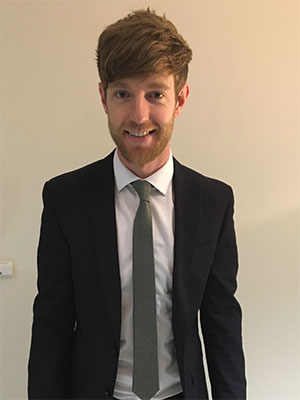 MSc Civil and Structural Engineering
'I would recommend Teesside University – the lecturers are knowledgeable and helpful, and the facilities are good.'
I decided to study at Teesside University as I'm local to the university and was aware of its respected engineering courses.

I wanted to study an MSc that had a structural engineering aspect so it would help me to progress in my current role at work. The course has allowed me to have a better technical understanding of key concepts and will enable me to become chartered with the Institution of Civil Engineers.

I enjoyed the structural design modules because they helped me to better understand aspects of my day job and the assignments were applicable to real engineering problems in industry. There is a wealth of knowledge that can be drawn from lecturers on the course.

I like the University's campus heart. It's friendly for students and some of the new learning facilities are excellent although I do most of my study away from campus.

I received a discount as a returning student which helped to persuade work to fund my course. I work as a design engineer for Sir Robert McAlpine. I work on a highway maintenance contract for the A19 trunk road from Dishforth to the Tyne Tunnel including parts of the A174, A1053 and A168. I carry out design work for over 200 structures that we maintain to ensure they remain open to road users. I also carry out reporting to Highways England who oversee our operations on behalf of the Secretary of State for Transport.

I have been supported throughout my studies by work which is extremely helpful. I've also started to support others in their learning to help them develop, such as sponsoring a student for their EngTech application with the Institution of Civil Engineers.

I would recommend Teesside University – the lecturers are knowledgeable and helpful, and the facilities are good. The course has helped me progress through the company and I hope it will continue help me to do so in the future.