Dominic Gilchrist
Dom came to Teesside as a mature student looking for a career change - now his course is helping him get closer to his goals.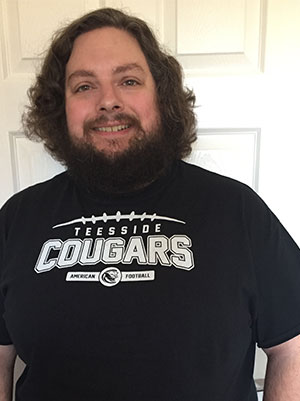 BSc (Hons) Biological Sciences with Professional Experience
'With such a thriving biotechnology industry just on our doorstep the possibilities of work and careers are endless.'
What brought you to study at Teesside University?
I'd been working since I was 16 but found myself at a crossroads. I wanted to get a career in an area that I'm passionate about – an area where I know will be making a difference to others. I'm from Middlesbrough and I've seen the University grow into the amazing place it is now, and I wanted to be part of that so I decided to do an Access course. I always had a passion for science, but never thought I had the academic ability to do it. Having completed my Access course, I realised I could do it, and the science modules really interested me. When I was offered the opportunity to study biological sciences I jumped at the chance.
What's the best thing about your course?
The breadth of subjects I study is fascinating and will allow me to access many future careers. I loved the Biodiversity and Evolution module, studying Darwinism and looking at the different ways we classify species and how they have evolved. The range of teaching methods used is fantastic too – one day we could be in computer labs and the next we could be in Middlesbrough Institute of Modern Art (mima). All the lecturers and support staff are all so keen to help you be the best that you can be. They put so much effort into making your experience an enjoyable one whilst making sure you have the knowledge and skills to succeed.
What do you think of the campus?
The campus is brilliant with everything you could need in one place. The Students' Union is a great place to spend time with your friends. But the Library is possibly my favourite place on campus – I also work there part-time as a library support assistant. The innovative design provides students with the best holistic experience, whether you want to use the group spaces with comfy bean bags, or the silent floors.
What is your social life like at Teesside?
One of my reasons for staying local was the cost of living, as it's one of the most affordable places in the country. I have a fantastic group of friends in the area and we regularly visit pubs, restaurants and shops. You are never short on choice of places to eat, drink or socialise. The new micro pubs and trendy eateries on Baker Street and Bedford Street are a fantastic addition to the town. I also play American football for the Teesside Cougars, the University team. It allows me to get fitter, travel the country for games, but also learn new skills and meet new people from a range of different courses that I may not get to know otherwise. Age has not been a barrier – the coaches and the rest of team have been extremely supportive.
Is your time at Teesside helping you to get closer to your goals?
Absolutely. The course is designed to not only give you the knowledge but the skills needed to excel in the workplace, whether that's laboratory skills or research skills. There's also the flexibility to choose your own final year project to suit your future ambitions. Also the work placement year will give me the opportunity to gain valuable experience in my chosen field. With such a thriving biotechnology industry just on our doorstep the possibilities of work and careers are endless.