Dominic Cockburn
Dominic is an industrial product designer for Games Workshop.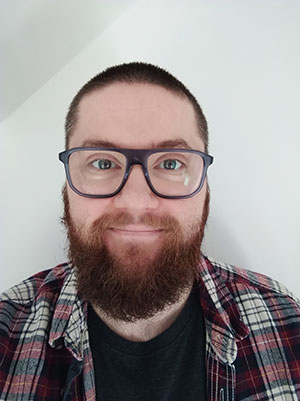 BA (Hons) Product Design
'A great course backed with strong lecturers – it was an amazing learning experience that I will never forget.'
Why Teesside?
The huge amount enthusiasm and general buzz at the open day was inspiring - it swayed my decision to study at Teesside University.
Tell us about your course
The degree course covered the vast expanse of design, from the artistic creative side to the more meticulous and precise engineering facets that are all part of the design process. The classroom environment is open and inclusive – every student works hard, supporting each other to make their best work. We used the well-equipped workshop to create models that took design concepts and turned them into a physical object. I used all the facilities to get the best out of each and every project.
Any highlights?
The best thing about the course was the creative freedom. With a good foundation of research, any sort of design or concept is acceptable. Lecturers are motivated and encourage highly creative and well thought out designs. My classmates always pushed everyone to make their best work and get as much out of the course as possible. It was a cohort of hugely talented people.

The final module was by far my favourite - a whole design concept from start to finish. It was such a challenge and really made me use everything I had learnt over the past three years to really hit the mark. Turning an idea into a physical generation of the idea was most interesting – once it is something that you can hold in your hands you can see changes that need to be made and how the object can interact in real life instead of on a piece of paper or on the screen.
What came next?
After graduating I became a model maker at Paragon Rapid Technologies working on prototypes for companies like JCB, McLaren and Jaguar Land Rover. I then became a FaroArm technician which used my degree skills to create CAD models for clients and quality check in-house projects.

My degree course gave me the tools to get the job done and to get a greater understanding of the design world.

Teesside University pushed everyone to do their best work and supported them in doing so. The constant investment in the campus to improve facilities motivated me even more. A great course backed with strong lecturers – it was an amazing learning experience that I will never forget.