Graeme Pearson
Graeme is an instrumentation and control engineer at Petrofac in Aberdeen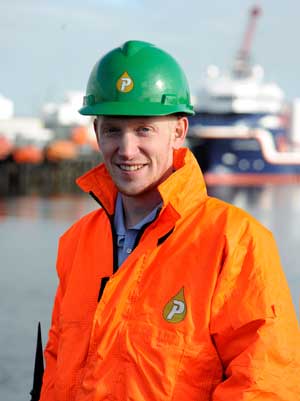 BEng (Hons) Instrumentation and Control Engineering
I work for Petrofac Offshore Projects & Operations, in the offshore projects side of the business on Apache facilities – including the Beryl Alpha and Bravo oil rigs in the North Sea, and the Scottish Area Gas Evacuation facility in Peterhead.

My main role is as an instrumentation and control engineer for offshore projects. This involves specifying instrumentation, creating datasheets in accordance with Apache's preferred equipment list, making sure that instrumentation is suitable for the hazardous area it will be used in and that it complies with safety standards, reading piping, instrumentation diagrams and other engineering documentation. I'm also responsible for purchasing instrumentation for various projects, taking part in engineering site surveys, attending project meetings, and communicating with Petrofac and Apache employees and vendors.

I am part of Petrofac's graduate development scheme. During the two years I have to complete a training matrix. It includes on-the-job learning and formal training with external providers to achieve industry-recognised qualifications. I also have to complete a competent person passport which contains evidence of my competencies and shows my development in the role gathering evidence for my continuing professional development – the online evidence-based system is the route to becoming a chartered engineer.

My time at university gave me solid background knowledge of engineering and instrumentation which I can now apply practically. It also gave me essential non-technical skills such as communication, time management, problem-solving skills, teamwork, planning and report writing.

I aim to become a chartered engineer – I'd like to get a lot more experience and knowledge in my field. I would also like to complete a master's degree when I have finished my on-the-job training.

I chose Teesside University because I knew the facilities and teaching were good. I also liked the fact that it was my local university and believed it would help me get work with local industry. I chose my subject as I had always been really interested in engineering, and fancied a change from electrical engineering.

I most enjoyed the challenge and reward of my engineering degree. I appreciated the laidback atmosphere and meeting new people on the course. I have always lived in the region and really enjoy the countryside surrounding Teesside.

I would recommend my course. It has helped me to get my ideal job – a professional rewarding career with a global company.