Sarah Joplin
Sarah is a site civil engineer at Owen Pugh Construction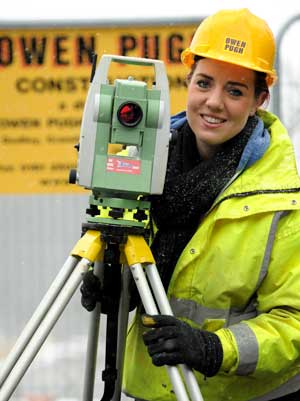 BEng (Hons) Civil Engineering
'I did many modules that helped prepare me - building technology, structural mechanics, geotechnology, civil engineering analysis and design, and water infrastructure.'
I am a site-based graduate civil engineer for Owen Pugh Construction based in Dudley. At the moment I am working at Gibside, a National Trust country estate near Rowlands Gill, Tyne and Wear. I'm constructing two new car parks and an elevated walkway to make it easier for visitors to access the grounds.

In terms of my day-to-day duties I'm responsible for setting out of the various components that build up the car parks and walkways at Gibside. This means using equipment such as a theodolite or automatic level alongside designers' site drawings to locate where sections of a design are to be situated. Other important roles include managing health and safety, and carrying out site inductions and risk assessments. Assessing the quality assurance of the job includes water quality checks when working near a watercourse, or compiling concrete reconciliation sheets to ensure there's no waste on site. Another role is monitoring the works – keeping a daily diary to record progress, and monitoring the projects programme to ensure work is carried out on time.

I did many modules at University which helped prepare me, including building technology, structural mechanics, geotechnology, civil engineering analysis and design, and water infrastructure. I also got some placement work which helped – two months' work in the 2009 summer break for Seymour Civil Engineering and a year-long placement at JN Bentley (2010-11).

Teesside University is close to home which meant I could keep my part-time job and stay close to family and friends. I appreciated such friendly staff and students, and great facilities including the Students' Union and library. It's easy to get help for a range of things. The library help is particularly good – I used it quite a lot when I was doing my dissertation.