Degree studies help Loukas to engineer career path
Studying at Teesside University has helped Loukas Lowe to engineer a path towards his chosen career.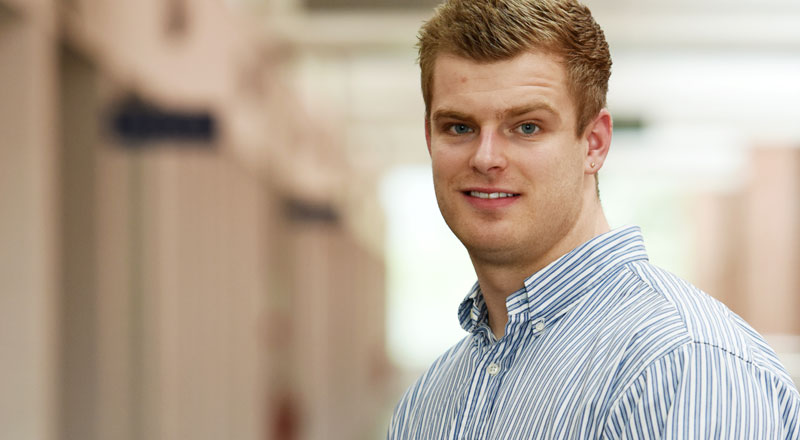 Loukas Lowe, 22, from Great Ayton, who graduates from the BEng (Hons) Civil Engineering, has taken up a role as graduate structural engineer with Jacobs Engineering.
His role is in the structures department, which is involved in the inspection, maintenance and repair of bridges and highways. Loukas is also considering continuing his studies part-time towards a master's degree.
He decided to study at Teesside University after visiting the campus during an Open Day. Loukas said: 'I was attracted by the vast amount of civil engineering facilities within the department.
'As well as being local to me, Teesside University remains within the prosperous international engineering hub. It continues to work with local engineering companies to provide the foremost engineering experience to the students, through organised events such as site visits and opportunities to research emerging technology.
'It also provides an engineering degree which is accredited up to master's status by the Institution of Civil Engineers.'
Loukas added: 'The course is extremely good and balances the engineering theory with engineering practicalities, allowing students to understand the application of theory very clearly.
One of the best thing about the course is that the University works closely with local companies
'One of the best thing about the course is that the University works closely with local companies and has a large portfolio of contacts which they use to seek opportunities for students to undergo placements.
'The group project was my favourite module each year as it brought together the skills and theory within every other module. One aspect I have significantly learned from this project involves the complexities of the stakeholders and their involvement in such a vast project. It has also given me an awareness and understanding of interdisciplinary relationships and how it translates to real-life projects.
Loukas completed a year in industry at K Home International during his degree. He said: 'I thoroughly enjoyed my time there. It allowed me to translate my existing skills into real life projects, while developing and exploring new skills in various software packages such as STAAD and Tekla Tedds.
'I would recommend the course to anyone looking for a foremost engineering experience who wants an ICE accredited degree and is looking to complete a year in industry.'
Loukas is now considering postgraduate study, with the aim of eventually becoming a chartered engineer.
---
---